Posts tagged 'Computers'
The backup feature will come out later this month, on June 28th, in the form of a new app called Backup and Sync.
When Apple launched its first color desktop computer, in 1990, the tech giant also created a prototype pair of sneakers with its signature rainbow logo.
They were first sold to a lucky Apple employee some time in the mid-'90s, according to BitRebels.  They later sold for only $79 on eBay  back in 2007.
In the years that followed, the whereabouts of the shoes were unknown — until a friend of Leon Benrimon, director of modern and contemporary art at Heritage Auctions, found them at a garage sale in San Francisco.
Now, Heritage Auctions is auctioning off the pair at its Beverly Hills location. Bidding will begin at 11 am on June 11, and the sneakers are expected to go for at least $30,000. The starting bid will be $15,000. The Adidas sneakers, size 9 and a half, are made from the typical white leather material of the times. They feature Apple's logo on the tongue and on the side. The soles are made from rubber that supposedly doesn't leave skid marks.

What you should Do
Contain the attack: Disconnect infected devices from your network to keep ransomware from spreading.
Restore your computer: If you've backed up your files, and removed any malware, you may be able to restore your computer. Follow the instructions from your operating system to re-boot your computer, if possible.
Contact law enforcement: Report ransomware attacks to the Internet Crime Complaint Center, FBI's Cyber Division (CyWatch@ic.fbi.gov or 855-292-3937) or an FBI field office. Include any contact information (like the criminals' email address) or payment information (like a Bitcoin wallet number). This may help with investigations.
Install Reputable Security Software: Your computer should have anti-virus and anti-spyware software, and a firewall. Viruses can be planted in emails or attachments to emails, in programs or files that you download, and even in Web sites that you visit. These viruses have the potential to wipe out your computer files.  Anti-virus software scans everything that enters your computer, looking for these viruses. Spyware is software that tracks your computer activity, gathering information without your knowledge. Anti-spyware software blocks or removes spyware. You may obtain the anti-virus and anti-spyware software separately or as a package. For lists of security tools from legitimate security vendors, visit staysafeonline.org.
Use a Firewall: A firewall is a virtual barrier between your computer and the Internet. Everything coming into or leaving your computer must go through the firewall, which blocks anything that doesn't meet specific security criteria. Before purchasing separate firewall hardware or software, check your operating system to see if there is a built-in firewall and whether it is turned on.
Update Operating System and Software Frequently: Computer and software companies frequently update their programs to include protection against new security threats. Update your operating system and software whenever new versions become available gives you an added measure of security. If available, activate automatic security updates so you will be alerted when updates are issued.
Avoid "Free" Security Scans: Be suspicious of an offer of a "free security scan," especially when faced with an unexpected pop-up, email, or an ad that claims "malicious software" has been found on your computer.
Create and Protect Strong Passwords: Create strong email passwords and protect them with the following tips:
The longer the password, the tougher it is to crack.  Use at least 10 characters.
Mix letters, numbers, and special characters.  Try to be random – don't use your name, birthdate, or common words.
Don't use the same password for different accounts.  If it's stolen from you, it can be used to take over all your accounts.
Don't share passwords on the phone, in texts or by email.  Legitimate companies will not send you messages asking for your password.
Keep your passwords in a secure place, out of plain sight.
Use a Pop-up Blocker: Don't click on links or open attachments in emails unless you know what they are, even if the emails seem to be from friends or family.
Use the Spam Filter: Utilize your email program's automatic spam filter, which reduces the number of unwelcome email messages that make it to your inbox. Delete, without opening, any spam or "junk mail" that gets through the filter.
Backup Important Data: Copy important files onto a removable disc or an external hard drive, and store it in a safe place. If your computer is compromised, you'll still have access to your files.
Michael Reynolds/European Pressphoto Agency
White House homeland security adviser Thomas Bossert said "the best and the brightest are working on" tracking who was behind the ransomware cyberattack.
Security researchers have discovered digital clues in the malware used in last weekend's global ransomware attack that might indicate North Korea is involved, although they caution the evidence is not conclusive.
An early version of the ''WannaCry'' ransomware that affected more than 150 countries and major businesses and organizations shares a portion of its code with a tool from a hacker group known as Lazarus, which researchers think is linked to the North Korean government.
John Bambenek, a research manager at Fidelis Cybersecurity says "This implies there is a common source for that code, which could mean that North Korean actors wrote 'WannaCry' or they both used the same third-party code,''
White House homeland security adviser Thomas Bossert said Monday that investigators were still working to determine who was behind the attack. The best and the brightest are working on it.
Several security researchers studying ''WannaCry'' on Monday found evidence of possible connections to the crippling hack on Sony Pictures Entertainment in 2014 attributed by the US government to North Korea. That hack occurred in the weeks before Sony released a satiric movie about a plot to kill North Korean leader Kim Jong Un.
However, Bambenek cautioned that the links are circumstantial. ''It could be a freak coincidence,'' he said. ''The code in question is not a large portion of the overall Wannacry malware so it's plausible that the attackers got it from somewhere else.''
The spread of the WannaCry virus has slowed as new cyberdefenses have been put in place and some eight to 10 U.S. entities, including a few in the health-care sector, reported possible "WannaCry" infections to the Department of Homeland Security, a US official said.
Factories, hospitals, and schools were disrupted in China by the attack, the spread of the virus appeared to be slowing. State media said 29,000 institutions had been hit, along with hundreds of thousands of devices.
South Korea reported that just five companies were affected, including the country's largest movie chain.
Researchers discovered a ''kill switch'' on the virus that stopped its spread from computer to computer, potentially saving tens of thousands of machines from further infection.
The ransomware program, which is spread through e-mail, encrypts computer files and then demands the bitcoin equivalent $300 to unlock them.
The attack hobbled operations at Russia's Interior Ministry, Spanish telecommunications giant Telefónica, and Britain's National Health Service.
The worm called WannaCry infected  200,000 computers in more than 150 countries, tied the UK health service in knots, took out the Spanish phone company, made train travelers in Germany chaotic, and took big swipes out of FedEx, Renault, a reported 29,000 Chinese institutions, and networks all over Russia—including the Russian Interior Ministry.
Can you get infected by Wanna Cry Ransomeware?
No. MalwareTech defanged the malware. Although there are a few extraordinary situations where the threat persists (in particular if your network blocks access to one odd website), for most people, WannaCry has been out of commission since late Friday.
Well Do I  need to worry about it right now?
Yes. There have been reports from Matt Suiche of a new WannaCry variant that's been sinkholed with 10,000 infections logged. The clones are coming, and many of them won't be easy to stop. You have to get your Windows PC patched now.
FedEx Corp confirms it has suffered a malware attack on Friday  and said its Windows-based systems were "experiencing interference" due to malware and that it was trying to fix the issue as quickly as possible. Computer systems at companies and hospitals in dozens of countries were hit Friday, apparently part of a huge extortion plot. The so-called ransomware attack appears to exploit a weakness that was purportedly identified by the U.S. National Security Agency and leaked to the internet. It encrypts data on infected computers and demands payment before the information is unencrypted..
A cyberattack that is forcing computer owners to pay hundreds of dollars in ransom to unlock their files has hit almost every corner of the world. This is the biggest ransomware outbreak in history.
Security experts from Kaspersky Lab and Avast Software say Russia was the hardest hit, followed by Ukraine and Taiwan. Researchers believe a criminal organization is behind this, given its sophistication.Russia's Interior Ministry says it has come under cyber attack. Agency spokeswoman Irina Volk says in a statement carried by Russian news agencies that Friday's cyber attacks hit about 1,000 computers. She said the ministry's servers haven't been affected. Volk also said that ministry experts are now working to recover the system and do necessary security updates.
Russian media also said that the Investigative Committee, the nation's top criminal investigation agency, also has been targeted. The committee denied the reports.
Megafon, a top Russian mobile operator, also said it has come under cyberattacks that appeared similar to those that crippled U.K. hospitals on Friday.
Microsoft has released fixes for vulnerabilities and related tools disclosed by TheShadowBrokers, a mysterious group that has repeatedly published alleged NSA software code. But many companies and individuals haven't installed the fixes yet, or are using older versions of Windows that Microsoft no longer supports and didn't fix.
Hospitals in the U.K. and telecommunications companies in Spain are among those hit by a "ransomware" attack that locked up computer data and demanded payment to free it. The attacks use a malware called Wanna Decryptor, also known as WannaCry.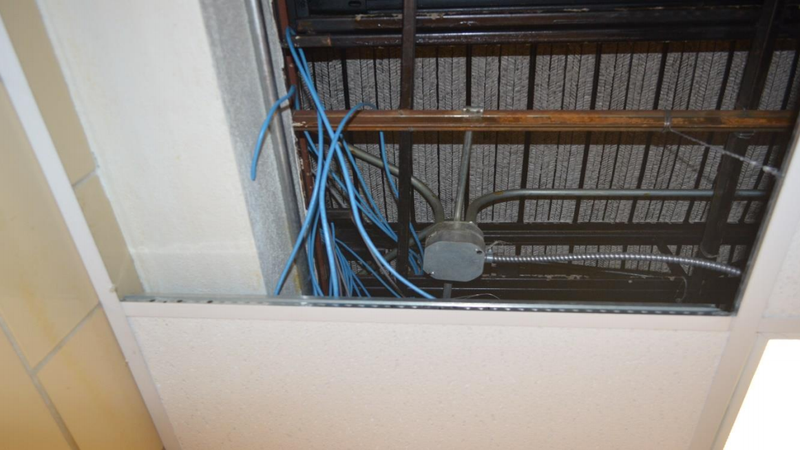 Two inmates incarcerated at Marion Correctional Institution, a low-security, 2,500-capacity facility which used inmate labor to recycle old computers as part of the non-profit RET3 program.Both inmates managed to squirrel away dozens of RET3 parts and construct two new machines inside MCI. The fully functional computers were "hidden on a plywood board in the ceiling above a closet" and subsequently "connected to [Ohio Department of Rehabilitation and Correction's] computer network."
According to the 50-page Ohio Inspector General report, the fully functional computers were "hidden on a plywood board in the ceiling above a closet" and subsequently "connected to [Ohio Department of Rehabilitation and Correction's] computer network." But wait—there's more. They were able to run ethernet cables through the ceiling and down to the network switch, where it was connected to port 16, and the inmates were able to obtain internet access via credentials belonging to, a retired prison employee who now works for ODRC as a contractor. Once connected, they were able to download articles on "home-made drugs, plastics, explosives, and credit cards." One of the inmates, according to the report, also "accessed an article online from the Bloomberg.com site detailing how to submit fraudulent tax returns and have the refunds wired to debit cards," and stole the identity of another inmate and used his name and social security number to apply for five credit cards. The investigators found a bunch of software useful for hacking and encryption, as well as brute force password crackers, an email spamming program, and a Java-based tool used to commit man-in-the-middle attacks. Likely this cornucopia of illicit programs was how the pair were able to issue "passes for inmates to gain access to multiple areas within MCI" and gain access to "unauthorized inmate records including disciplinary records, sentencing data, and inmate locations.
How they were discovered
The two masterminds were caught due to employee bandwidth throttling. An automated message informed MCI staff that on Friday July 3, 2015 "a computer operating through the ODRC computer network had exceeded a daily internet usage threshold." The ring of prisoners involved with this data heist have been shipped off to other facilities, and MCI are shouldering the blame for not only allowing it to happen, but failing to notify Ohio State Highway Patrol as regulations.
Dag they should do their time (be good) and apply for a computer job