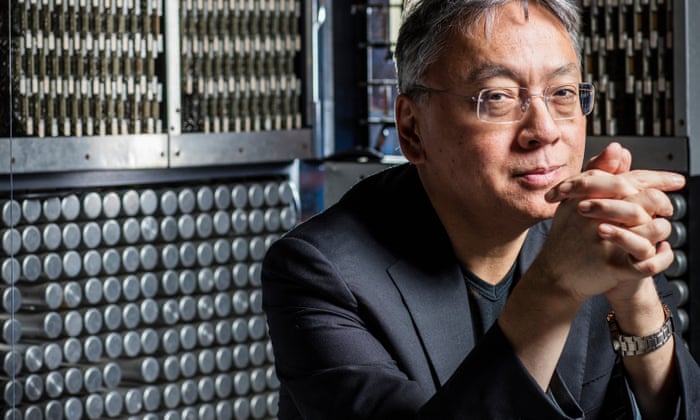 Kazuo Ishiguro, winner of the Nobel prize in literature 2017 Photograph: David Levene for the Guardian
Kazuo Ishiguro's new book features an American woman who claims to be a virtuoso on the cello. She befriends and tutors a young Hungarian cellist earning his living playing in cafes. she tells him "you have it, most definitely you have … potential." As the days turn into weeks, he wonders why she does not appear to own a cello herself, and eventually, as summer draws to a close, he discovers why. She cannot actually play the instrument at all. So convinced was she of her own musical genius, no teacher ever seemed equal to it, and so rather than tarnish her gift with imperfection, she chose never to realize it at all. "At least I haven't damaged what I was born with," she says.
Ishiguro's fiction is acclaimed for the spare elegance of the writing, a testament to the power of what is left unsaid.
Kazuo was born in Japan, but moved with his parents and two sisters to Surrey when he was five, and has lived here ever since. His parents found British culture quite bewildering, and Ishiguro was inevitably cast in the role of anthropological go-between, but this left him with a fascination with the minutiae of class rather than any wound of dislocation