Archive for the 'Librarian' Category
NYPD Officer Damieon Frey unveils the new Free Little Library at the 145th Street and St. Nicholas Ave subway station.
Free mini-library was unveiled this week in a New York underground subway station — @ 145th Street & St Nicholas Avenue station right next to NYPD's Transit District 3 Precincth allows for constant supervision
The little library stands about five-feet tall. Open the door and anyone can take a book. All the organizers ask it that readers leave a book behind, to fill the gap. The non-profit organization started the initiative in the hopes it would get more people reading.
Little Free Library has outlets all over the world. There are over 10 in the city already, but this is the first in an underground station. NYPD Transit plans to place a Little Free Library in each transit precinct eventually.
Little Free Library founder Todd H. Bol said there will be books for all age ranges and many that will appeal to young children.
"We did this partnership with Marvel, and Marvel is going to give an ongoing supply of books… Disney will send two years supply of Marvel books and comics.
Readers aged 13-18 would act as mentors to the younger children, reading with them after school at the Little Free Library outside the precinct, as part of the NYPD Explorers Program.
LIBRARY OF CONGRESS // USA
Images courtesy of NCinDC's and BamaLawDog's Flickr streams.
The Library of Congress, is the largest library in the entire world as ranked by both shelf space and number of books. Among its several buildings, the oldest is the Thomas Jefferson Building, which just might be the most beautiful structure in the library system. Completed in 1897, the library's neoclassical style features some of the most intricate interiors of any building in the U.S., including murals and sculptures from a variety of classically-trained American artists. Interestingly, the building's exterior was even more lavish than it is now, as it was originally gilded, but this was criticized as it was believed to draw attention away from the Capitol Building. These days, the roof consists merely of copper that has aged to a sea green shade.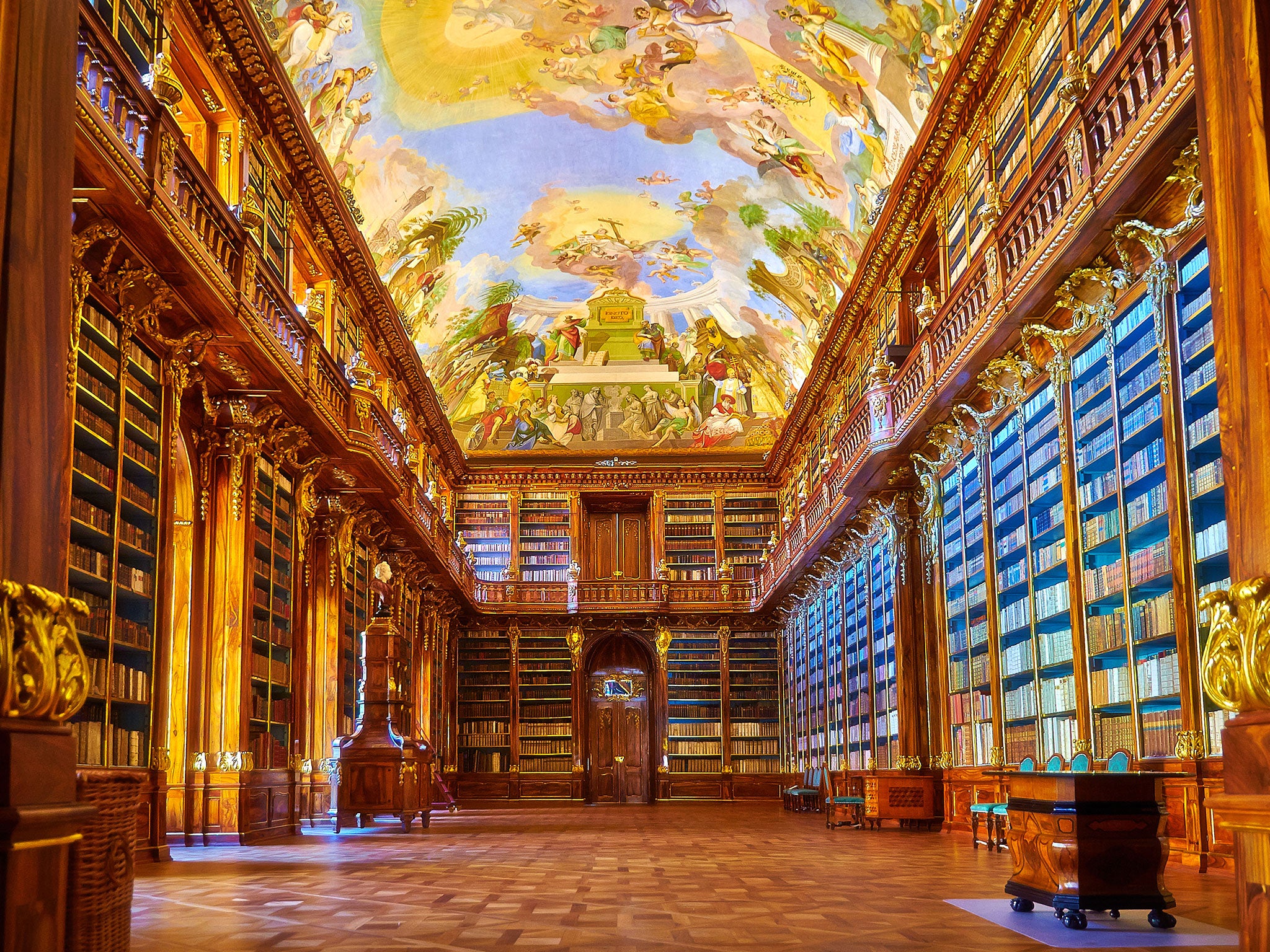 The main hall of the Strahov library in Prague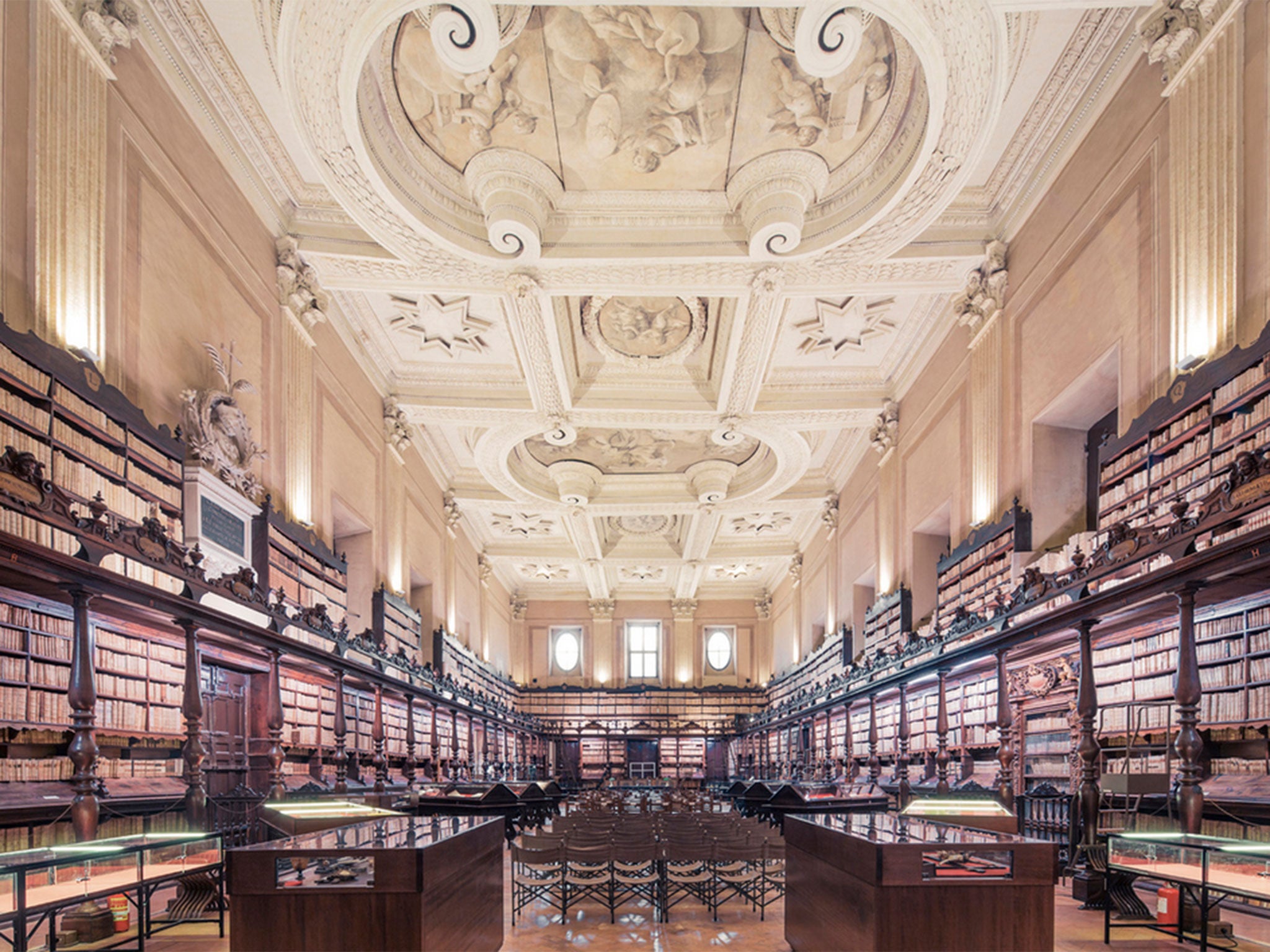 'Biblioteca Vallicelliana, Rome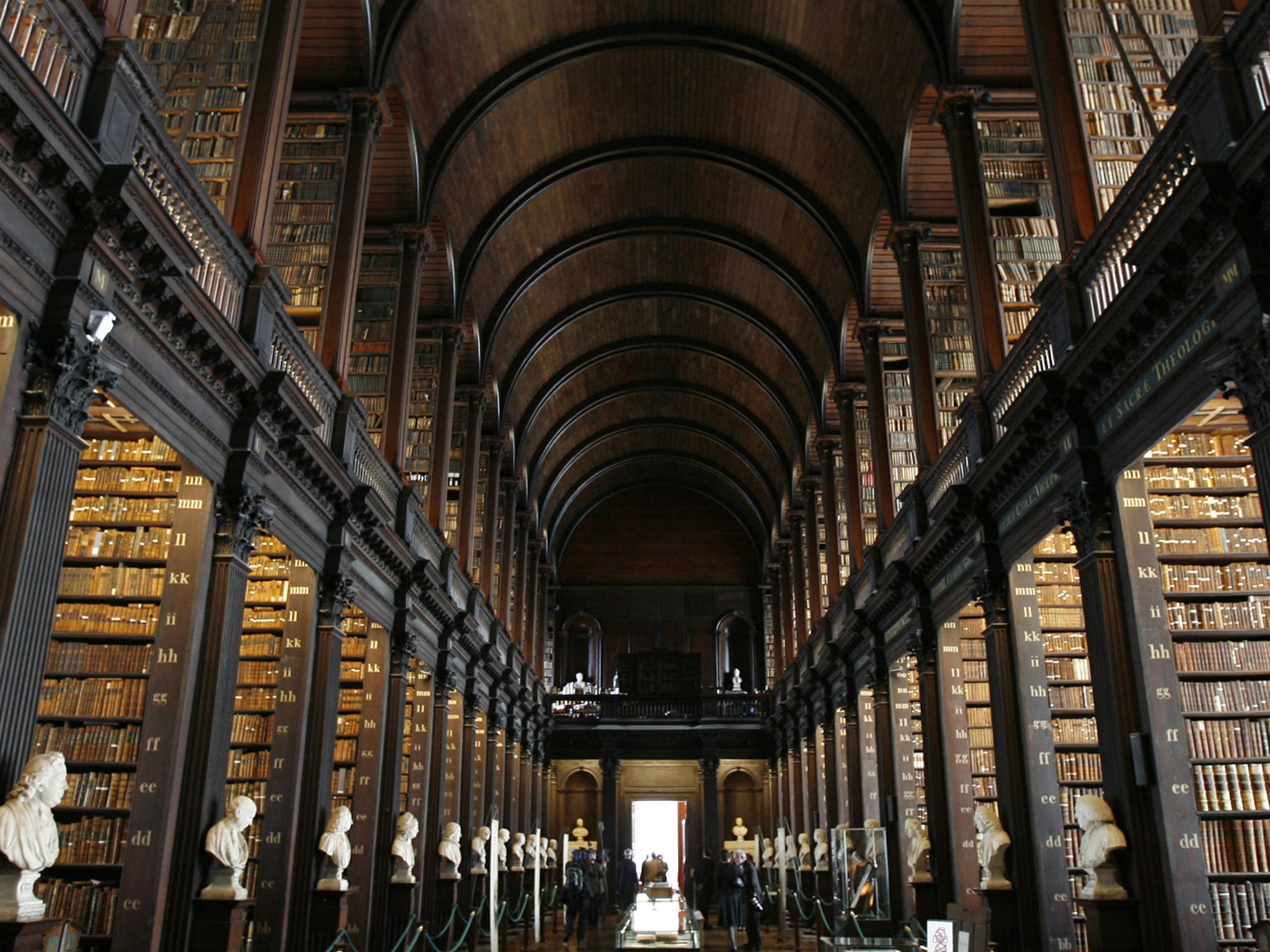 The library of Trinity College, Ireland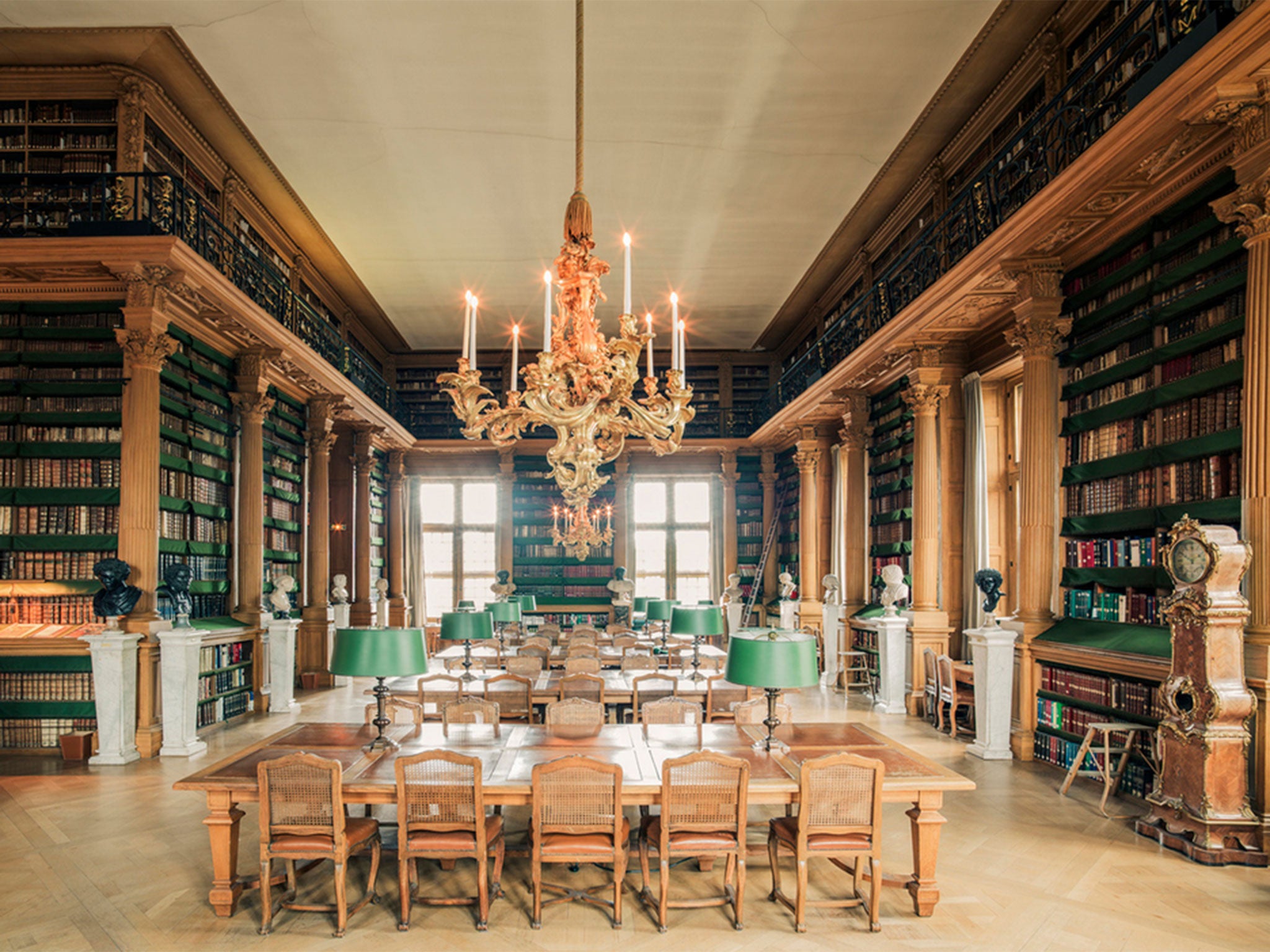 Bibliotheque Mazarine, Paris
Franck Bohbot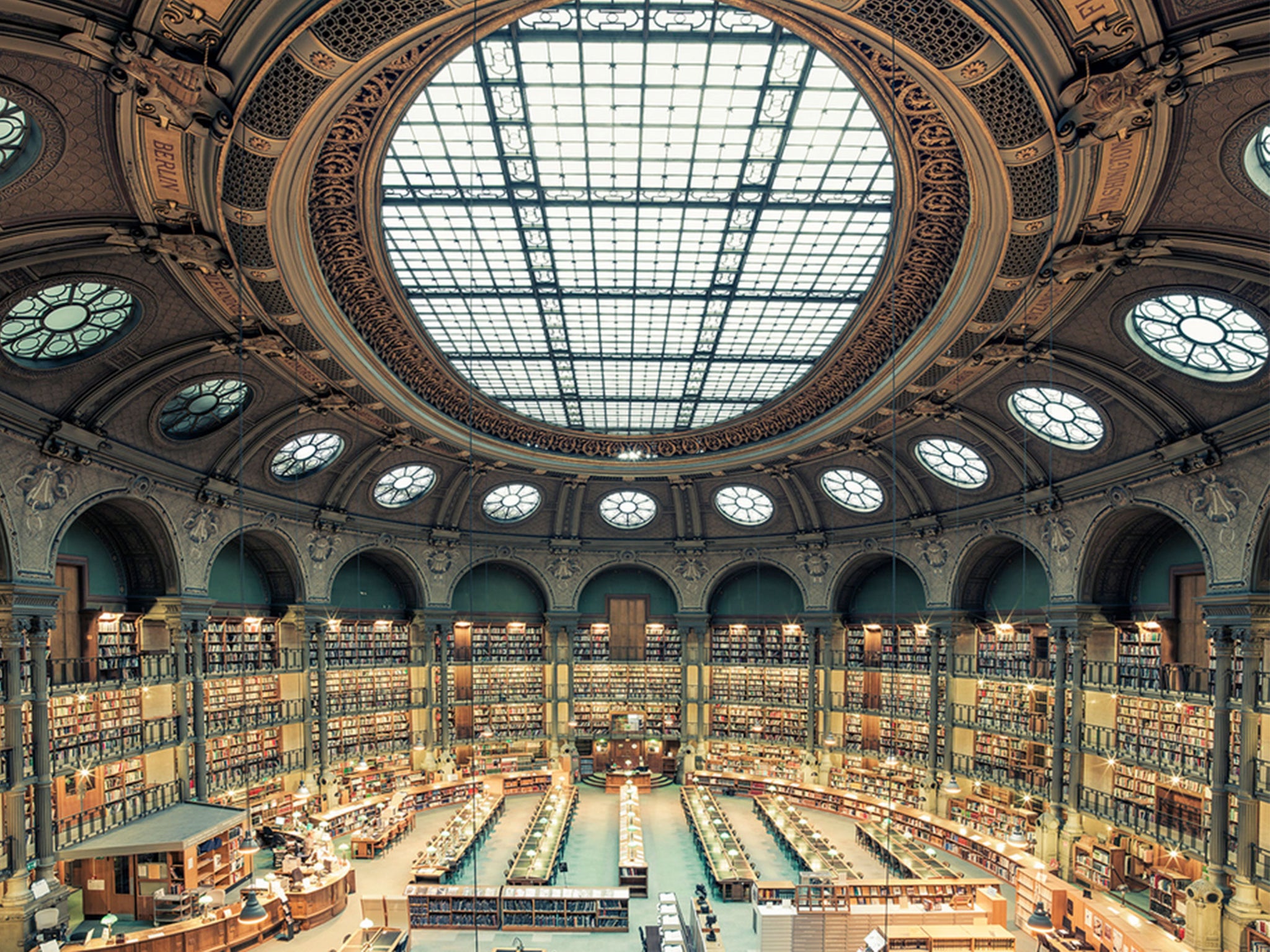 Bibliotheque Nationale de France, Paris
Franck Bohbot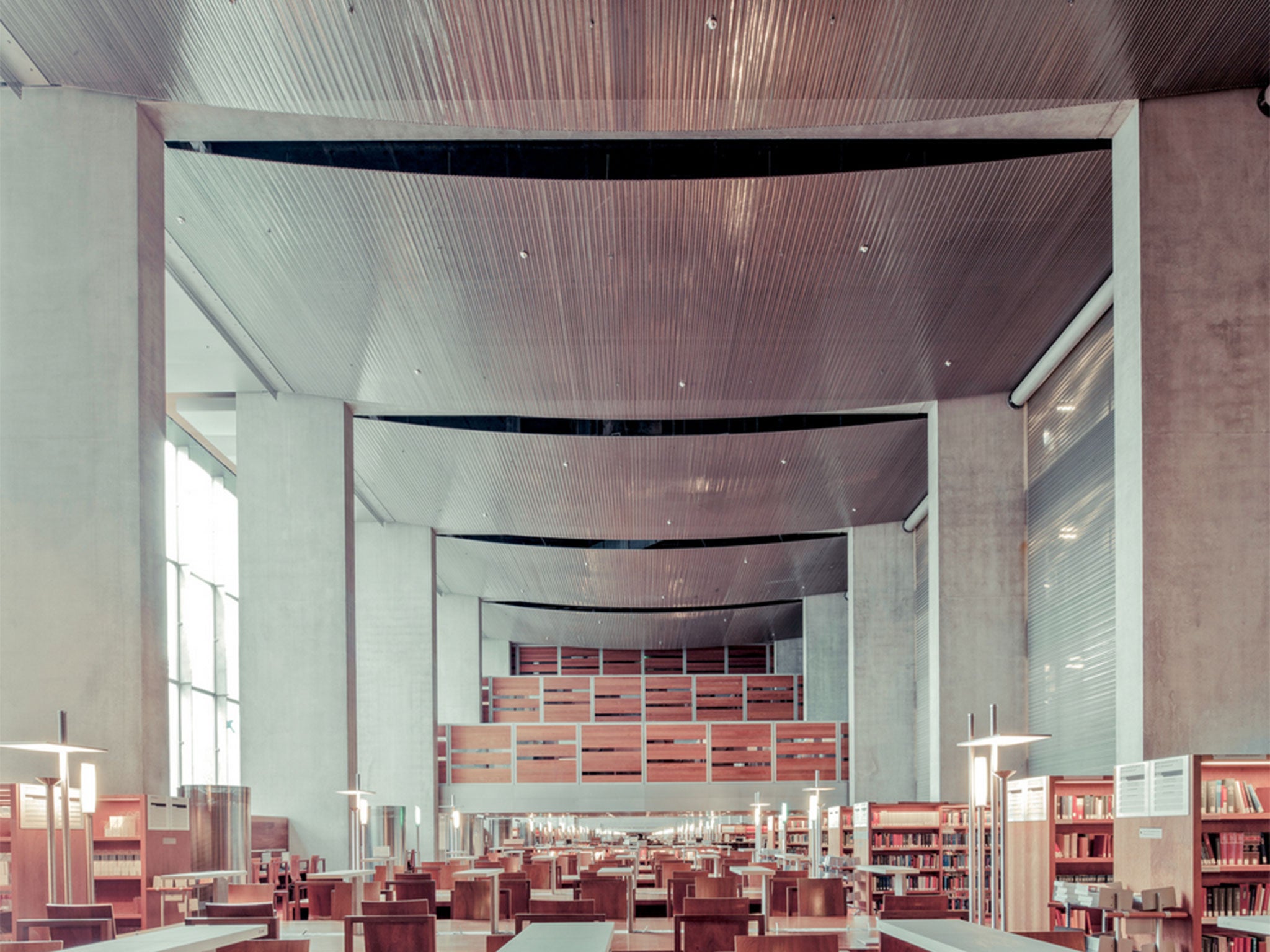 'BNF, site Francois-Mitterrand, Paris
Franck Bohbot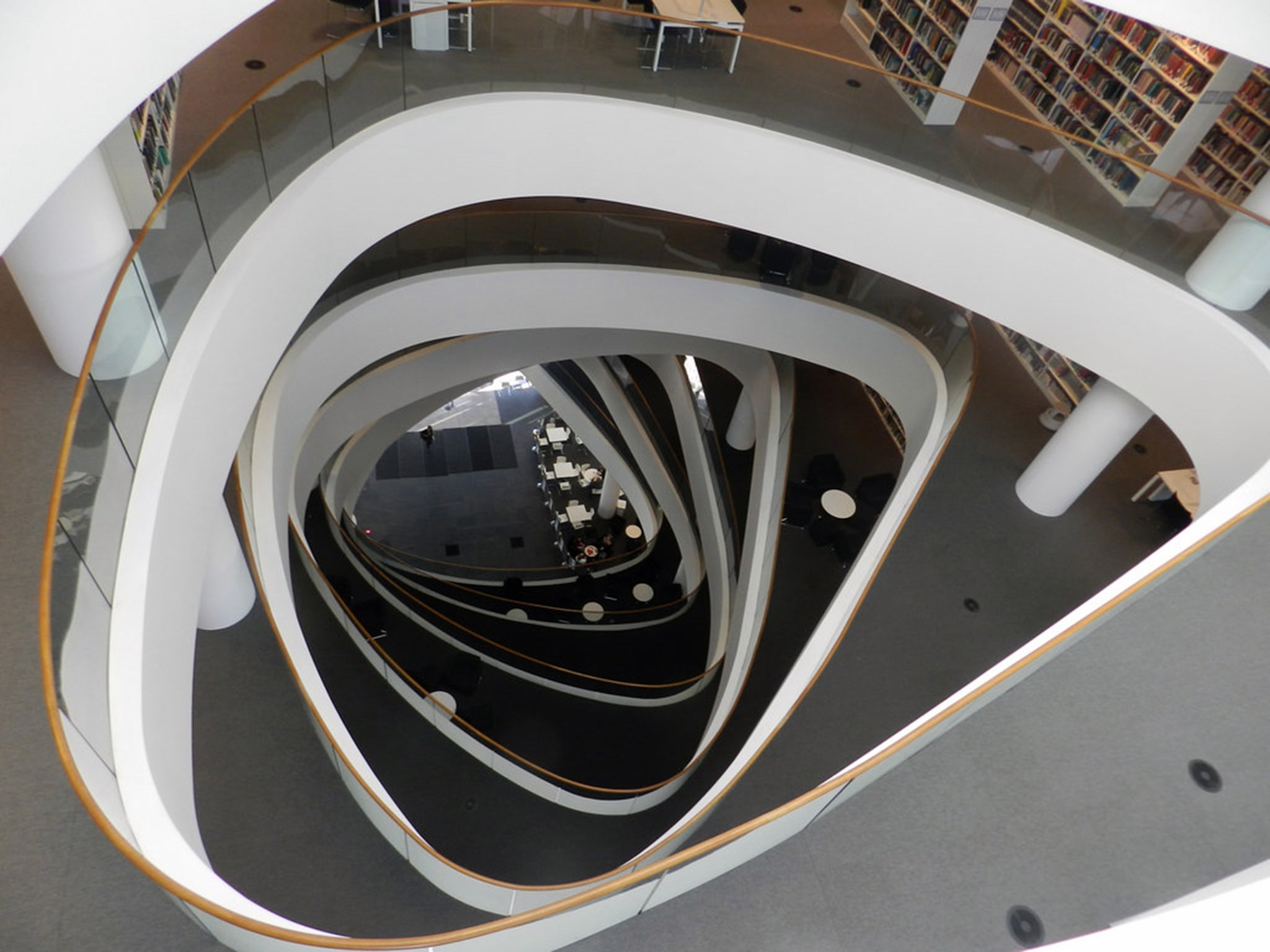 The Sir Duncan Rice Library, University of Aberdeen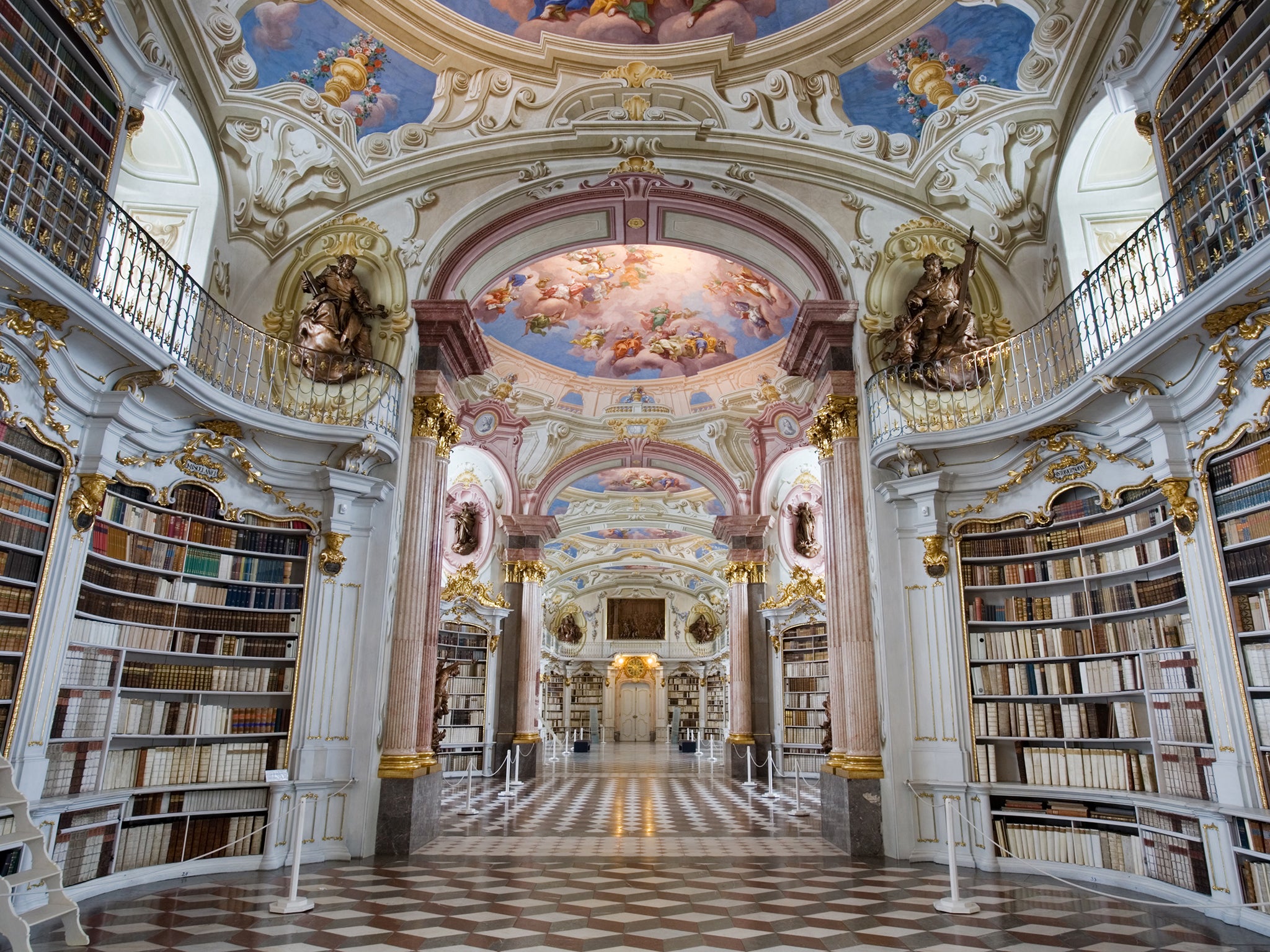 Stift Admont – Bibliothek, Austria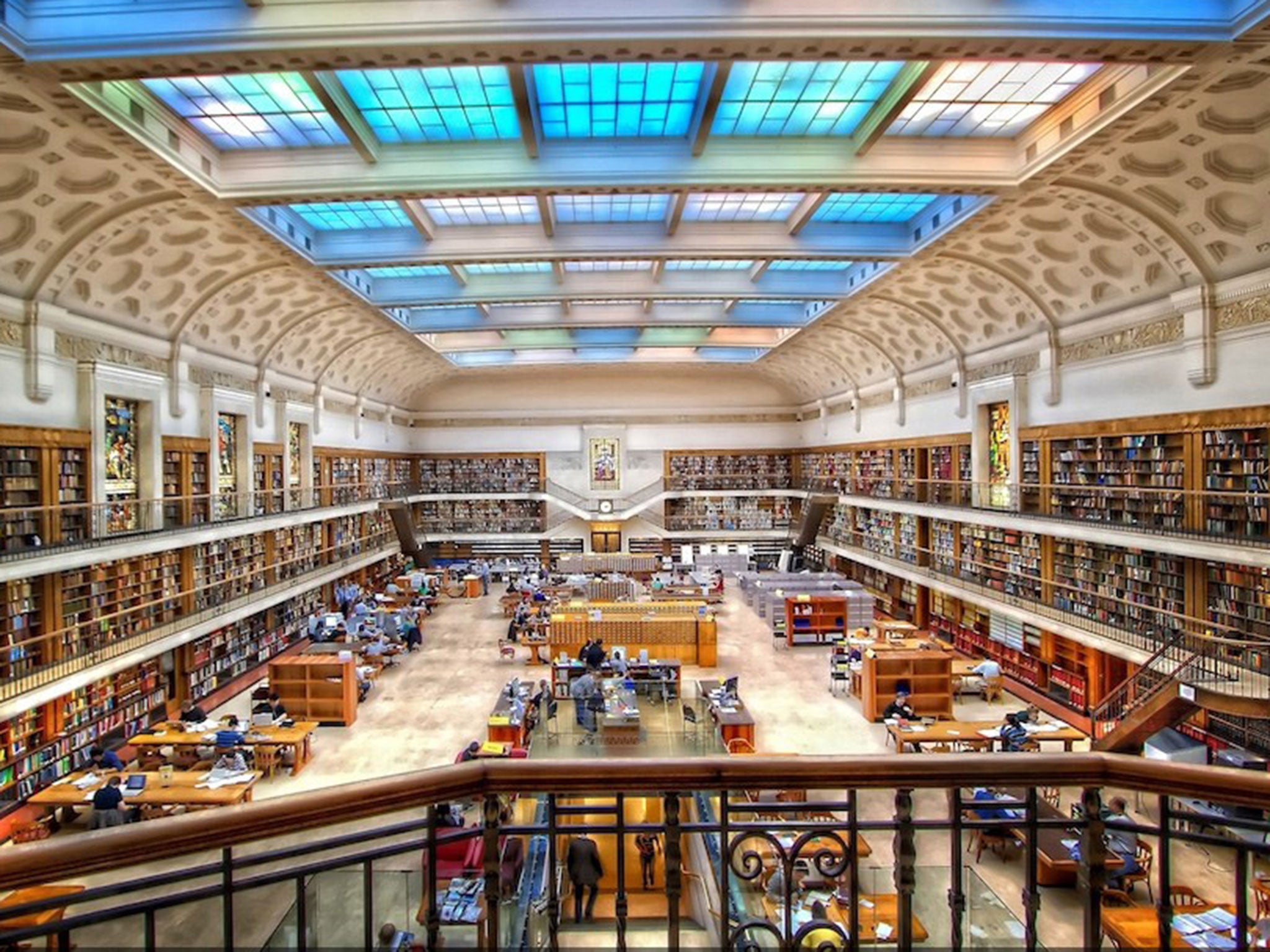 The State Library of New South Wales (also known as the Mitchell Library) in Sydney, Australia
Christopher Chan, Flickr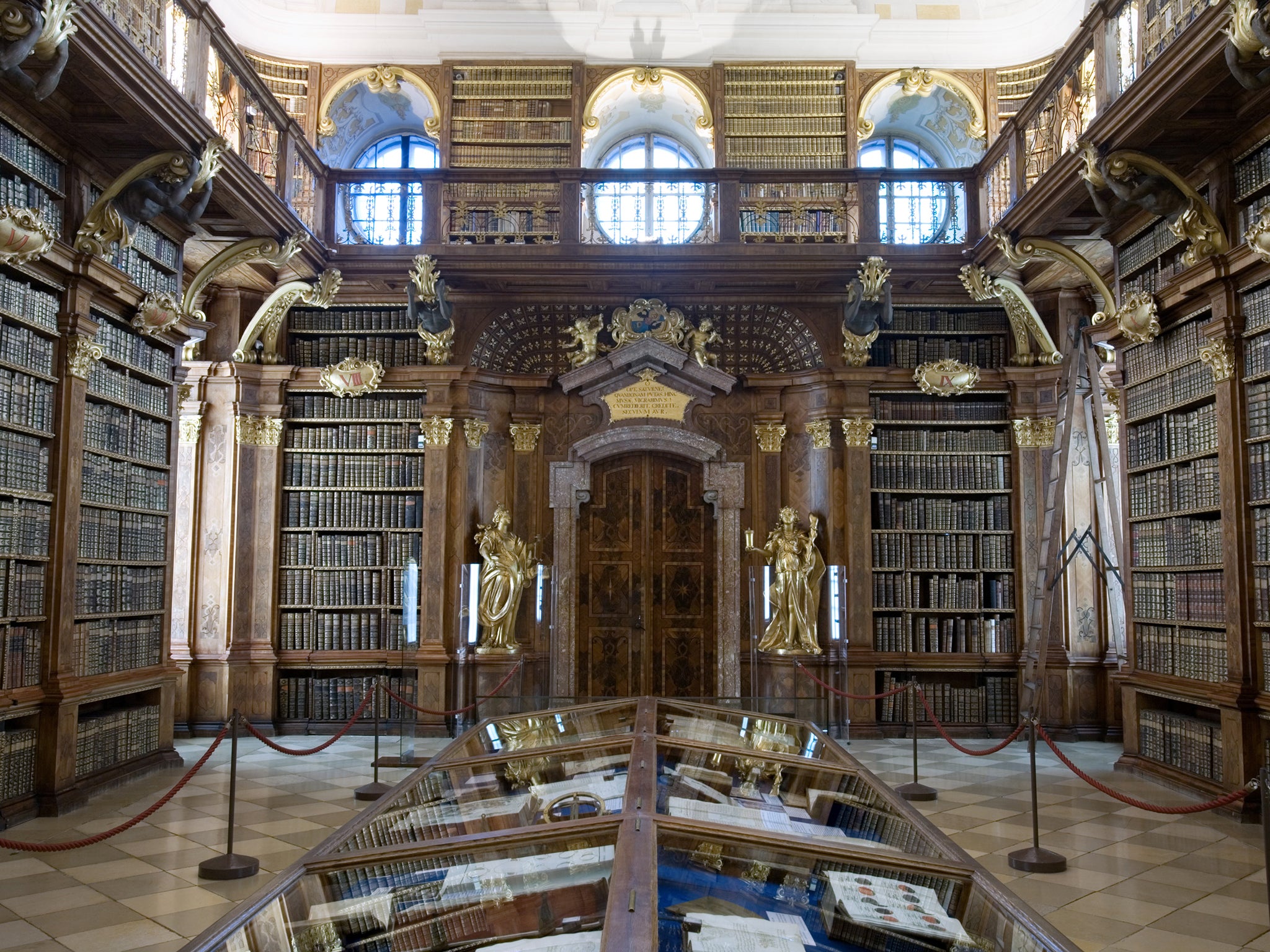 Melk Monastery Library, Austria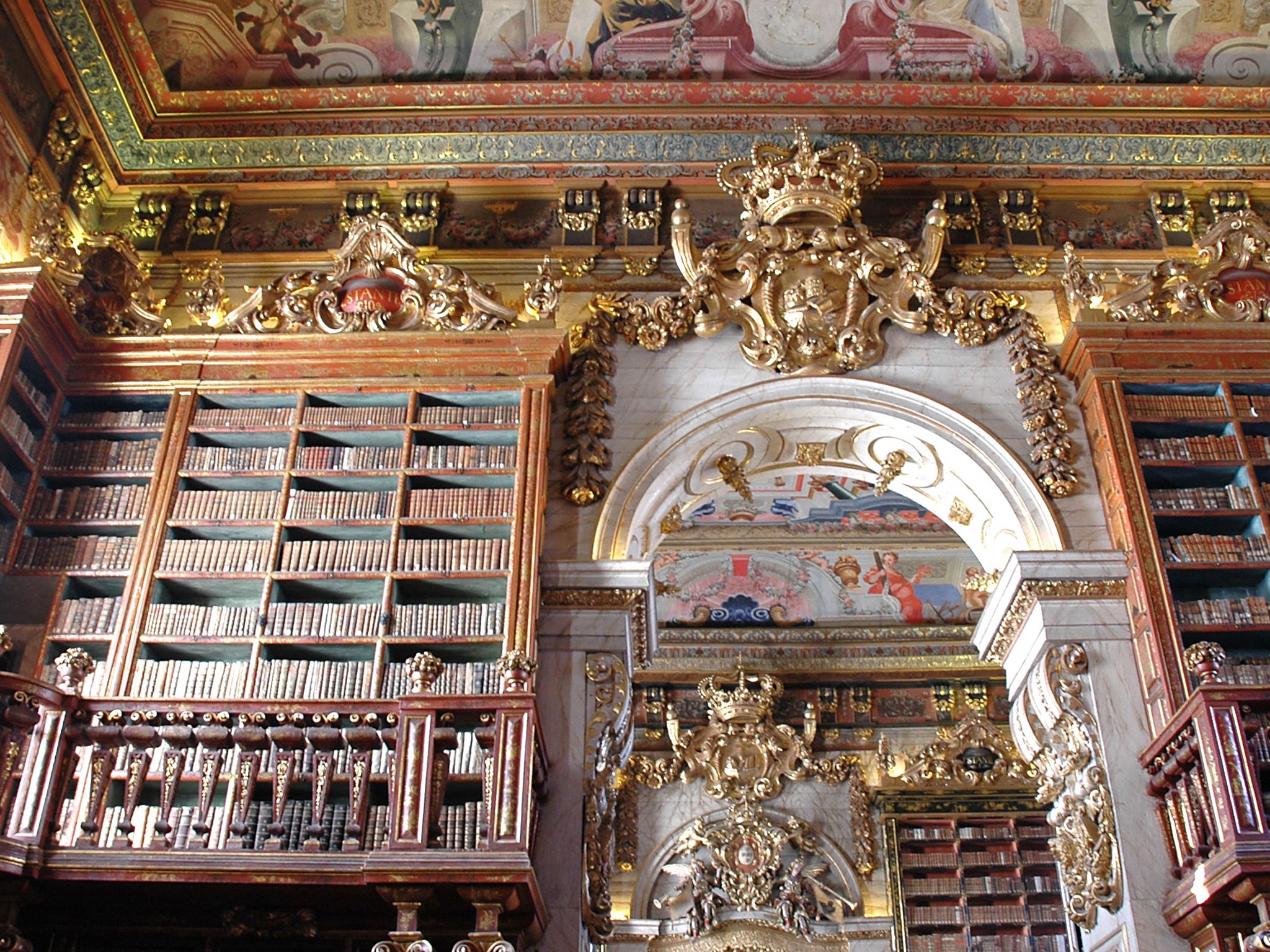 Biblioteca Geral University of Coimbra, Portugal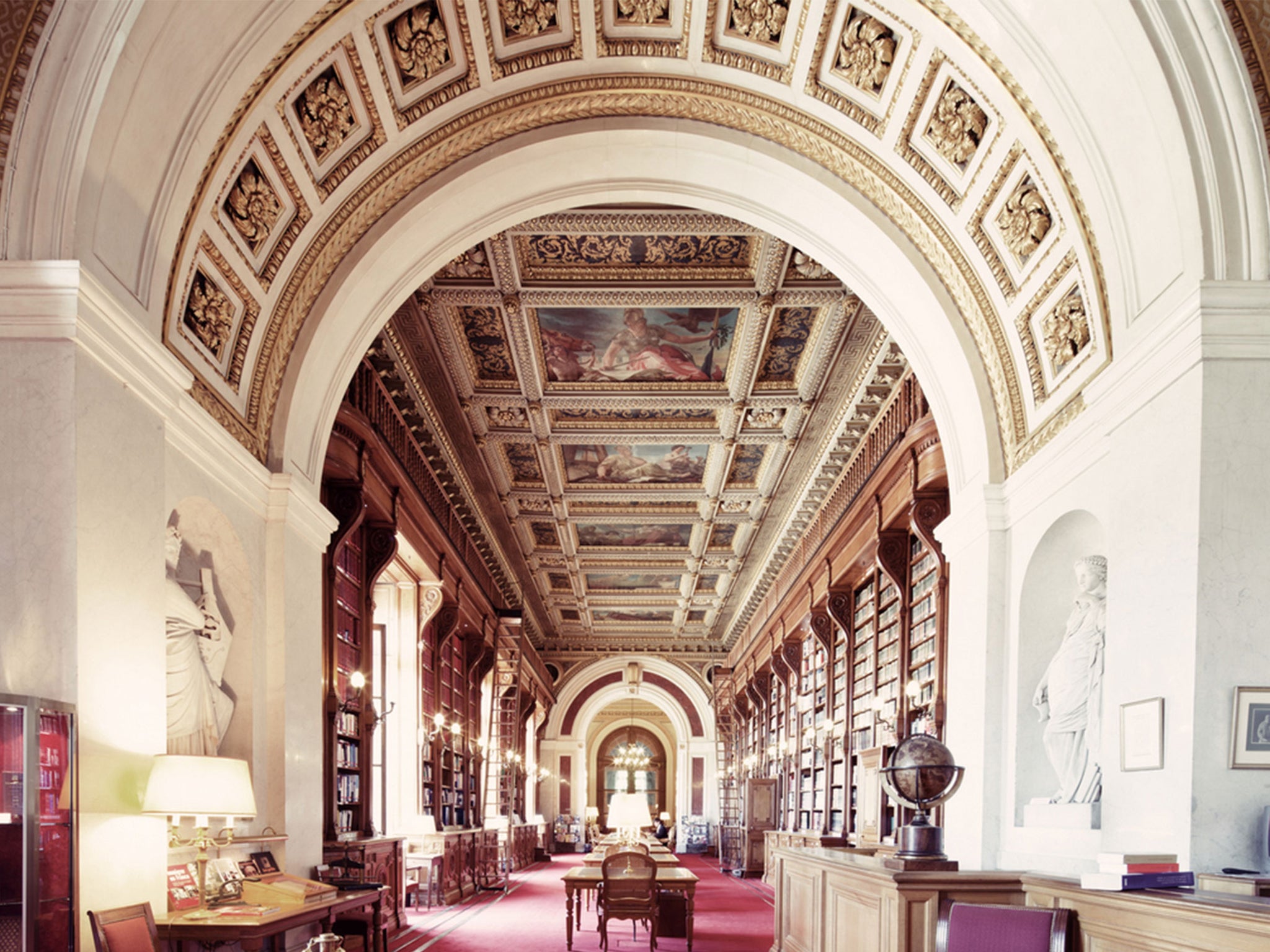 Images courtesy of Miguel Bernas'and Beth Hoffman's Flickr streams.
The Library of El Escorial, Spain
Image courtesy of Jose Maria Cuellar's Flickr stream
Biblioteca Geral, University of Coimbra, Portugal
Images courtesy of Taco Ekkel's and Mick L's Flickr streams.
HANDELINGENKAMER, NETHERLANDS
Image courtesy of Jackie Kever's Flickr stream.
The library of the Dutch Parliament contains every record of parliamentary hearings and discussions. Because it was built before electric lighting made the storage of books a lot safer, the building was constructed with a massive leaded glass dome in the ceiling to allow in light and minimize the need for candles and gas lamps inside the library.
8. DELFT UNIVERSITY OF TECHNOLOGY LIBRARY // NETHERLANDS
Images courtesy of Robert Lochner's and Thomas Guignard's Flickr streams.
ABBEY LIBRARY OF ST. GALLEN // SWITZERLAND
Image courtesy of Wikipedia user Stibiwiki.
This lovely library is not only the oldest in Switzerland, but one of the oldest and most important monastery libraries in the world,
10. ADMONT ABBEY LIBRARY // AUSTRIA
Built in 1776, the Admont Abbey Library is the largest monastery library in the world.
11. Melk Monastery Library, Austria
The Baroque-styled abbey and the library within were completed in 1736 based on designs by Jakob Prandtauer. The library includes a world-famous collection of musical manuscripts and features stunning frescoes by artist Paul Troger.
12. AUSTRIAN NATIONAL LIBRARY // AUSTRIA
Images courtesy of Craig Elliot's and Jessica Curtin's Flickr streams.
Austria's largest library is located in the Hofburg Palace in Vienna and houses over 7.4 million items in its collections. The library was completed in 1723 and features sculptures by Lorenzo Mattielli and Peter Strudel and frescoes by Daniel Gran.
13. WIBLINGEN MONASTERY LIBRARY // GERMANY
Image courtesy of volzotan's Flickr stream.
14. STRAHOV MONASTERY LIBRARY // CZECH REPUBLIC
Image courtesy of Claudia Dias' Flickr stream.
This impressive library collection contains over 200,000 volumes, including just about every important title printed in central Europe by the end of the 18th century.
15. CLEMENTINUM NATIONAL LIBRARY // CZECH REPUBLIC
Image courtesy of Bruno Delzant's Flickr stream.
The series of buildings that make up this National Library owe their inception to an 11th century chapel dedicated to Saint Clement (hence the name).
16. THE ROYAL PORTUGUESE READING ROOM // BRAZIL
Images courtesy of Luciano Joaquim's and Sebastian R.'sFlickr streams.
The Real Gabinete Português de Leitura in Rio de Janeiro holds more Portuguese works than anywhere else outside of Portugal, including a number of rare titles.
17. THE NATIONAL LIBRARY OF BRAZIL // BRAZIL
Image courtesy of Patricia Valeria's and Yuken Chen's Flickr streams.
Another amazing library of Rio, the National Library of Brazil was constructed back in 1810 and has since become the largest library in Latin America and the 7th largest in the world.
18. The National Library of Chile
Image courtesy of Ejercito de Chile's Flickr stream.
Featuring a similar style to the National Library of Brazil, this beautiful building was designed in 1913 and completed in 1925 with a neoclassical design meant to commemorate the country's centenary anniversary. Aside from housing the National Library, the building serves as headquarters to the country's National Archives.
19. THE LIBRARY OF THE SAN FRANCISCO MONASTERY // Peru
Images courtesy of Sierra Michels Slettvet's and dgphilli's Flickr streams.
The library in Lima's San Francisco Monastery is one of the oldest and most beautiful on the continent. The stunning convent was completed in 1672, with renovations and improvements continuing up until 1729. The 25,000 volumes contained therein are extremely rare, chronicling a massive variety of knowledge dating from the fifteenth through the eighteenth centuries.
20. HOME OF PERUVIAN LITERATURE // PERU
Image courtesy of Chimi Fotos' Flickr stream.
If you think the architecture of this building looks familiar, that's because it was a commonly used design for train stations around the early 1900s. As for why this library looks like a train station, well, that's simple—it used to be one. In fact, it wasn't converted into a library until 2009. In an effort to get more of the country's citizens to read and to support the country's artists and writers, the library features over 20,000 works, mostly written by or about native Peruvians.
21. PUBLIC LIBRARY OF LIMA// PERU
Image courtesy of The Librarian is In.
The previous home to the National Library of Peru, the Public Library of Lima was completed in the 1940s with a small addition completed in 1974. It's been declared a historical monument by the country's National Institute of Culture. The main gallery features marble floors and stairs, sculptures of the library's founders, and gorgeous high ceilings.
22. NATIONAL LIBRARY // COSTA RICA
Images courtesy of The National Library System of Costa Rica and Alex Watkins' Flickr stream.
With a massive upside-down arch above a glass window and concrete levels sandwiching a fragile-looking glass central story, the National Library of Costa Rica is quite striking. It still appears modern despite being over 40 years old. Unfortunately, the location has been subject to a number of earthquakes, leading to a number of closures over the years.
23. VIRGILIO BARCO LIBRARY // COLOMBIA
Images courtesy of elroquero's and Colombia Travel's Flickr streams.
If you are a fan of modern architectural design, then you'll really love what Colombia has created in the last decade or so. Famed architect Rogelio Salmona designed this library, completed in 2001. Featuring red brick walls, blue water pools and green lawns, this creative design looks like a maze of colors housing a labyrinth of books inside.
24. SPANISH PARK LIBRARY // COLOMBIA
Images courtesy of Daniel Echeverri's and dfinnecy'sFlickr streams.
25. EPM LIBRARY // COLOMBIA
Images courtesy of Guia de Viajes Oficial de Medellin's and Biblioteca EPM'sFlickr streams.
26. VILLANUEVA PUBLIC LIBRARY // COLOMBIA
Images courtesy of Nicolas Cabrera via Dezeen.
Biblioburro, a traveling library in Colombia. Photo by Acción Visual/Diana Arias, courtesy of Wikimedia Commons. CC BY-SA
Today,  you'll find libraries doing more to serve their communities these days than ever. All over the world, libraries are becoming one of the last holdouts of the commons and the source of an amazing array of things you can borrow.
While adults and little kids have their approved spaces in public. Libraries are doing more to cater to teenagers, like the libraries in New York City, Austin (TX), Billings (MT), and Dayton (OH), are finding that giving teens some say in design choices and providing rooms where they can meet, study, listen to music, play video games and even eat, means that libraries are becoming more than relevant to young people again.
Being the neighborhood commons has a darker side, as well. In one year alone, 12% of Pennsylvania's public libraries found themselves dealing with people overdosing on drugs. Libraries around the country have similar stories. As a result, there are libraries doing more to help combat the opioid crisis by stocking and dispensing Naloxone, an overdose reversal medication. Even in conservative Salt Lake City (UT), anyone can obtain Naloxone, "no questions asked."
Libraries are hosting Maker spaces, providing free lunches for kids on summer vacation, and even (as an aside) improving public literacy.
According to a new analysis of federal data, The United States can't afford librarians. Between 1999-2000 and 2015-16, U.S. public schools lost 19% of full-time equivalent school librarians, according to a School Library Journal article by researcher Keith Curry Lance that examined National Center for Education Statistics (NCES) data.
The shortage in public school librarian employment  has not recovered since 2008. Districts serving minorities have been hit the hardest. Among all the districts that have retained all their librarians since 2005, 75% are white, Education Week reports. On the other end of the scale, student populations in the 20 districts that lost the most librarians in the same time comprised 78% students of color.
In essence, while U.S. employment rates are back up in the wake of the Great Recession, the public school librarian sector has not rebounded, and the nation's collective failure to rebuild its public information infrastructure and minorities have been hit the hardest.
Some states suffered a more dramatic loss than the average. The number of librarians employed across Florida's 67 school districts has dropped by 27% since just 2005, according to a 2017 Herald Tribune article, leaving several districts without any librarians at all. In replacement, the Herald Tribune argues, paraprofessionals run libraries as media aides — a position that requires just a high school diploma and a certification, and which starts at $14.60 an hour. Librarians with masters' degrees, however, are often the first to go when budgets need to be cut.
Education Week's articles also argues that librarian's roles are being replaced by other, less qualified job titles: As public school librarians dwindled by 20%, schools saw an 11% rise in counselors, 19% boost in instructional aides, and a full 28% more school administrators.
Several recent studies have indicated that students suffer academically as a result: One nationwide study published in 2011 found signs that states' 4th grade reading scores dropped in correlation with their loss of librarians. A 2012 Colorado-specific study from the same researchers then followed up, finding a similar correlation in the opposite direction: "Schools that either maintained or gained an endorsed librarian between 2005 and 2011 tended to have more students scoring advanced in reading in 2011 and to have increased their performance more than schools that either lost their librarians or never had one," that study holds.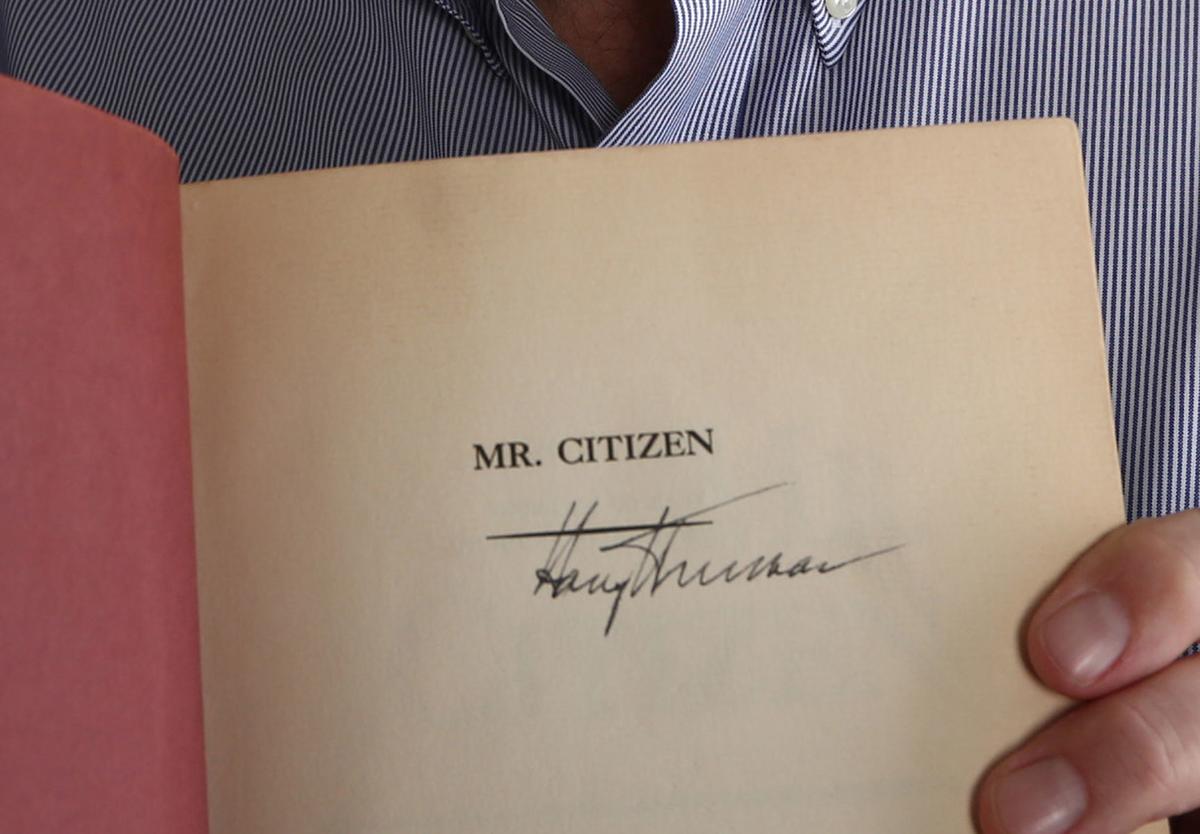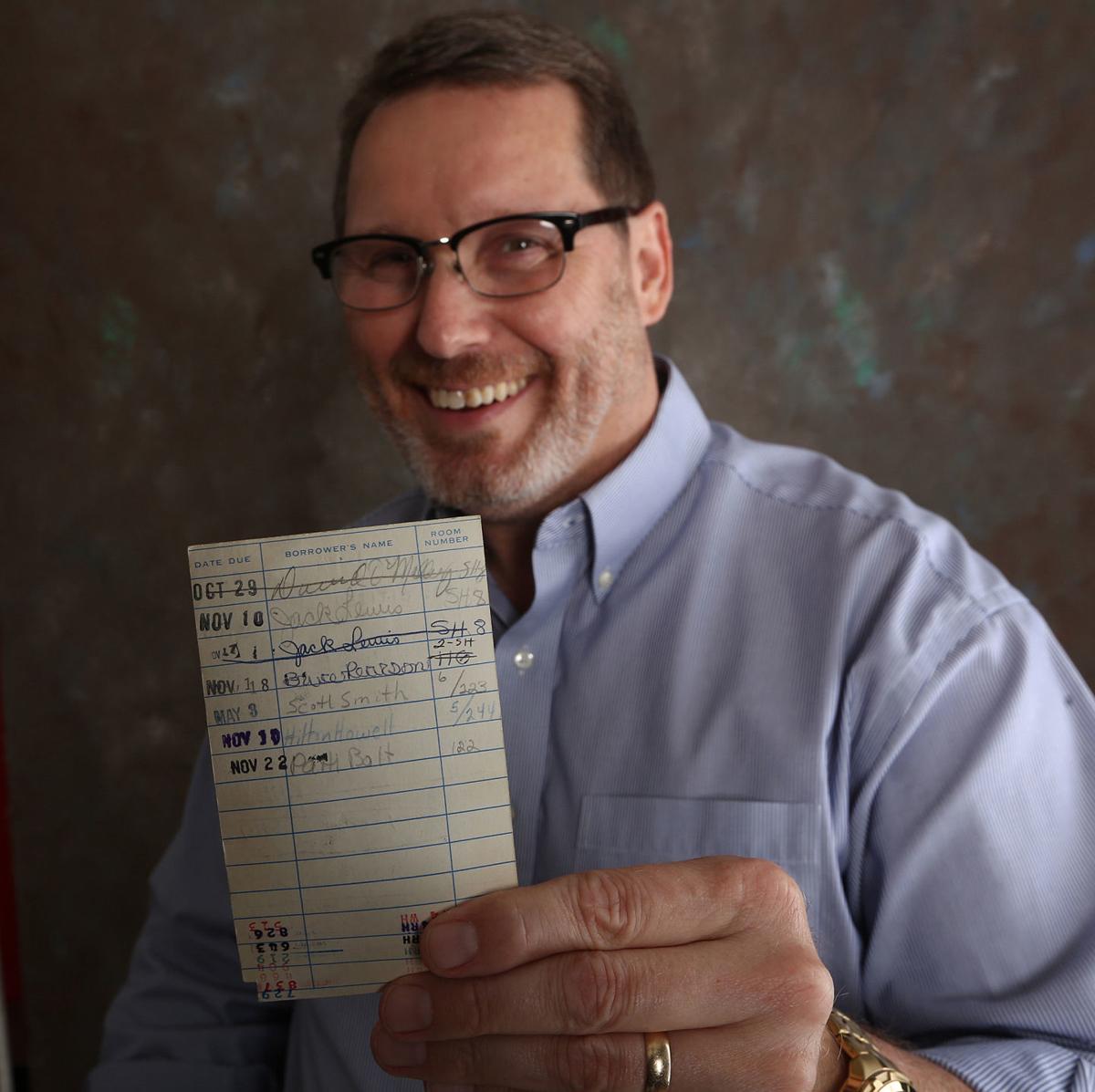 Staff Photo Rod Aydelotte
A Waco High School librarian was weeding out old, little-read books from the stacks on Thursday when she paused at an autobiography of Harry S. Truman.
The librarian, Carri Nowak, opened to the title page of "Mr. Citizen" and saw the publication date: 1960. And under the title was an autograph that appeared to be from the former president himself.
She called the school district's library specialist, Lisa Monthie, who at first thought she was saying a student had signed the book.
The librarian first thought was to weed the book.
That discovery led to a bit of sleuthing by Waco Independent School District officials. Monthie called Waco ISD social studies content specialist Robert Glinski, who contacted the director of the Harry S. Truman Presidential Library and Museum in Independence, Missouri. The museum confirmed the signature appeared to be written by hand, not mass-produced.
Signed memoirs by Truman are not exceedingly rare, though they are not commonplace either. Copies start at about $200 at online booksellers.
What was baffling was that such a prize book ended up in a high school library, with the front card showing it was being checked out as early as 1962.
The front card shows it was part of the collection of Richfield High School, which opened in 1961 at the current Waco High School campus at 2020 N. 42nd St. The schools merged in 1986.
The last few checkout dates do not include the year, but it appears that the book has not been checked out in more than 30 years.
Glinski is trying to discover if Truman signed the book when he visited Waco in October 1960, soon after the book was published.
In town for a tour supporting presidential candidate John F. Kennedy, Truman delivered a barn-burning speech against religious bigotry.
After spending the night at the downtown Roosevelt Hotel and having a steak dinner at the Masonic Grand Lodge of Texas, Truman headed to the Heart O' Texas Coliseum for a speech in front of 5,000, the Tribune-Herald reported at the time. Along the way, he reminisced fondly of his previous visit to Waco as a sitting president in 1947, when he received an honorary doctorate from Baylor University.
At the coliseum, Truman chided Protestant preachers for telling their flocks not to vote for a Catholic candidate. He said he would have "exploded" if a Catholic priest "had stood up in church and said I ought not to be elected because I was a Baptist." He said "religious bigotry is a regular earmark of a dictatorship."
Meanwhile, the Waco Baptist Association met to pass a resolution reprimanding Truman for "his conduct and his manner of speech as a Christian, a Baptist and a guest in our midst." The association also resolved to "encourage our churches and people consider seriously the men nominated for the presidency as to their allegiances other than to the Constitution of the United States."