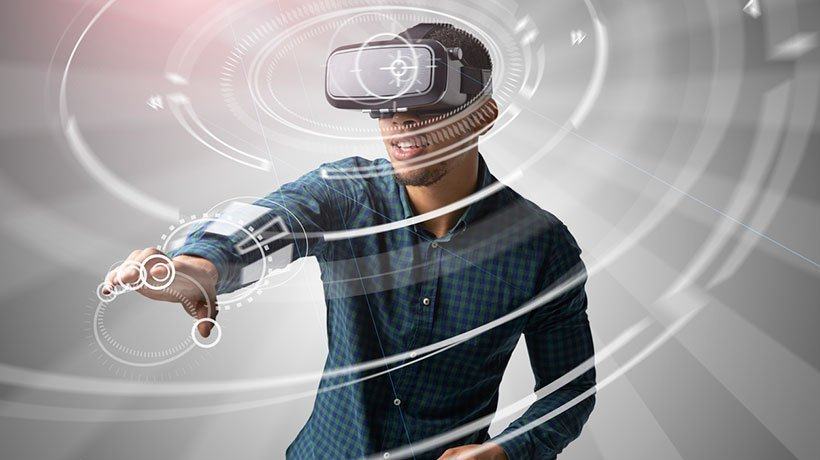 Virtual Reality (VR)
VR can transmit students to the farthest corners of the universe in just a blink of an eye and surround them with an engaging and deeply educational environment. Students will no longer be stuck with pages upon pages of boring text, bullet points, and illustrations, but they will have a chance to actually go through the experience and get the most out of it instead.
Augmented Reality (AR)
Augmented Reality is a technology that superimposes a computer-generated image on a user's view of the real world, thus providing a composite view. This, also, includes real-world sensory input like video, graphics, or sound [2].
When it comes to eLearning, Augmented Reality can make the learning process more interesting and easier to grasp. For instance, if you were an online instructor and your target subject was astronomy, you could offer your students a virtual tour of Mars without asking anyone to leave their home.
Artificial Intelligence (AI)
Artificial Intelligence is referred to the intelligence displayed by machines, as opposed to natural intelligence displayed by humans and animals [3]. It is revolutionizing the whole eLearning experience due to the many advantages it has to offer. AI can help highlight areas that require improvement and assist students in focusing on areas where they are lagging.
Big Data
If an employee is interacting with a training module based around company policies, their progress, social sharing, assessment results, and another relevant date that is being generated throughout the eLearning course is referred to as "big data".
Big Data allows eLearning experts to understand how the users are digesting the information and which learning aspects appeal the most to them. In addition to that, it allows them to pinpoint learning interactions that should be fine-tuned within the eLearning module or course.
Wearable Devices
Wearable devices also referred to as wearables, are smart electronic devices that can be worn on the body as accessories or implants
Machine Learning
Machine Learning is a field of computer science that gives computers the capacity to learn without being directly programmed.