Posts tagged 'College'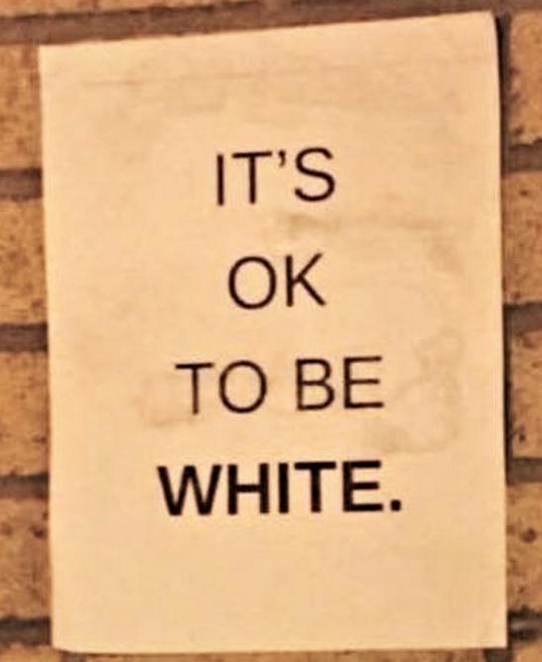 It's OK to Be White" messages has periodically appeared on campus posters over the past two years, typically placed unknown people or organizations who haven't taken credit for doing so, and who are believed to be from off-campus groups.
Pro-white propaganda of various types has been appearing on campuses in increasing frequency in the last two years. Last week has seen a surge in such postings.
The "OK to be white" message turned up in Vermont, at the University of Vermont and Champlain College.
Since then the posters have appeared at American River College, Duke University, North Carolina State University, Tufts University, the University of Delaware, the University of Denver and the University of St. Thomas, in Minnesota.
The trend is not only in the United States. One Canadian institution, the University of Manitoba, also had the posters turn up. In Australia, the use of the phrase by some politicians has set off a major political debate (and appearance of the posters), but in that case, the focus is not in higher education.
Also last week, white nationalist posters turned up at California State University at San Marcos.
The campuses seeing the posters do not seem to fit any pattern. They include public and private institutions, two-year and four-year, institutions where white people make up a minority of students and institutions where they are the overwhelming majority.
Colleges have generally removed the posters as soon as they are discovered. Colleges generally require those putting up posters to identify themselves and/or get permission to place them. That hasn't happened in these cases. So while college leaders have condemned the message behind the posters, they have not faced free speech challenges because those putting up the posters have violated college rules.
The surge in these posters on campus has come at a challenging time for many institutions, as students respond to a divisive midterm election and recent killings of black people in Kentucky and Jewish people in Pittsburgh.
For the last two years, the Anti-Defamation League has been documenting an increase in white supremacist activity (including posters) on college campuses. There were 292 cases of white supremacist propaganda reported on campuses during the 2017-18 academic year, compared to 165 in 2016-17.
Cheating has become so widespread in schools from all around the world that it's getting impossible to control. In an attempt to avoid frauds in baccalaureate exams, the Algerian government temporarily blocked Facebook, Twitter, and other social media sites during exam time in June, 2016. Earlier that month, individuals had published exam material on these social networks, and others promoted that exposure.
Students use assignment writing services like AssignmentMasters to buy multiple choice answers, essays, research papers, and all other kinds of academic content.
Students can download cheating material on Graphic Calculators. Although many professors and schools are banning them from exam halls, graphic calculators are still among the favorite tools for cheating.
Smartphones and tablets are used to take pictures of notes and message friends who send the answers to them.
Smartwatches are powerful tools that can download and store data. In 2015, Kyoto University banned students from wearing any type of watch in an attempt to prevent them from using smartwatches for cheating.
Some students buy college term papers to stay competitive with grades.
President Barack Obama unveiled a new college scorecard on Saturday that contains an overwhelming amount of data on everything from average annual cost to graduation rate—– to how much graduates earn a decade after leaving their respective institutions. The revamped scoreboard released a trove of new federal data about the nation's colleges and universities
For the first time, the data reveals the share of a college's former students who make some progress in paying down their federal loans within the first three years after leaving college. Moreover, they provide the first comprehensive look at how much students who receive federal loans and Pell Grants end up earning after they leave a specific college, both in the short term and long term.
The administration's new data thats broken down by individual college and going back several years, won praise from experts on higher education data, even as they — and many college and university leaders, from a much more negative perspective — were quick to point out the significant limitations of the information.
What is significant – the government's new earnings data reflect only the achievements of students who received federal financial aid, which several experts said would significantly skew the data and either understate — or, in some cases, possibly overstate — the actual median earnings of a college's former students
Updated College Scorecard——the College Scorecard, features new measures of student outcomes at specific institutions, including graduation rates, median salary information and loan repayment rates. 
Democrats and Republicans alikeand the administration abandoned its ratings plan earlier this summer. Officials pledged to instead provide a host of new consumer information about colleges. The information released Saturday reveals student earnings data broken down by specific college and university. the department is publishing two new post college salary metrics based on data from students who received Federal loans or grants to attend college.
For example:
1.The first data reveals the share of a college's former students who, six years after they entered college, earn more than about $25,000 per year. That threshold is designed to show how many students are making more than what the average high school graduate earns.
2.A second earnings metric is more long term. It shows the median salary of former students 10 years after they began college. For both metrics, the earnings data capture former students who received federal student aid at a college, regardless of whether they graduated.
The American Council on Education,—expressed concern about the data. The revamped Scorecard may or may not provide meaningful information to the students and families.and the scorecard only provides a single number for an entire institution regardless of whether a student studied chemical engineering or philosophy, and only includes the earnings of federal student loan borrower.
A coalition of public colleges and university leaders have urged the administration to rely on the Student Achievement Measure.
Many data experts conceive that the administration's focus on publishing some student outcome data, however imperfect, was an important step forward.
The new consumer tool will also feature "warning flags, revealing colleges that the Education Department has singled out for the extra scrutiny known as heightened cash monitoring, level two, because of serious financial or regulatory compliance issues. The revamped website will allow users to sort colleges based on their own preferences. In addition,they will publish the data through an application programming interface, or API, a web protocol that allows other organizations to easily incorporate the data into their own sites or applications.
TheRoadToCollegeCareerReadiness
The Program for International Student Assessment (PISA) is a triennial international survey which aims to evaluate education systems worldwide by testing the skills and knowledge of 15-year-old students. More than 70 economies have participated in the assessment.
The most recently published results are from the assessment in 2012. The next report is scheduled for December 2015.
Around 510,000 students took part in the PISA 2012 assessment of reading, mathematics and science representing about 28 million 15-year-olds globally. Of those economies, 44 took part in an assessment of creative problem solving and 18 in an assessment of financial literacy.