Posts tagged 'email'
Google launched a new feature called Smart Compose that takes its AI writing much further. Smart Compose works a lot like Google's own Autocomplete does in Search, popping up the things you might be about to say next. Simply by hitting tab, you can accept Google's proposed words, add them to your copy, and move on to the next line of your email . . . for which Google might have even more suggestions.
To try it out, you'll first need to turn on the "Enable experimental access" option within the General tab of the new Gmail's settings. After you click the "Save Changes" button at the bottom of the screen, Gmail will refresh itself—and Smart Compose should then automatically be activated. You can confirm by going back into the General tab of the settings and looking for the newly added Smart Compose option. As long as "Writing suggestions on" is checked, you're all set—and you should see Google's predictive text show up periodically as you write new emails.
Google is very good at saying "hi"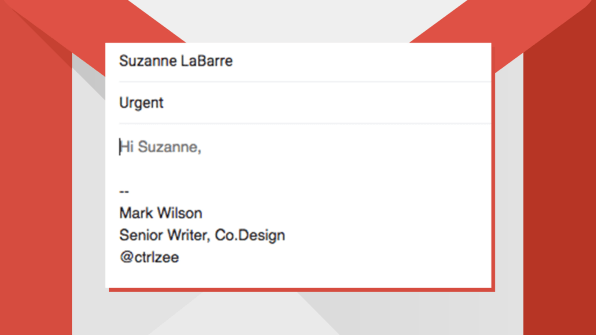 Department of Justice and the FBI—has announced a major coordinated law enforcement effort to disrupt international business e-mail compromise (BEC) schemes that are designed to intercept and hijack wire transfers from businesses and individuals.
  Gmail has a new feature called Smart Compose. This feature allows for artificial intelligence to auto-fill information in the emails you compose in an effort to cut down on the time spent typing up mindless messages. If typing emails is truly one of the bane's of your day-to-day existence, this feature is here to alleviate that stress. 
SUBJECT: Write emails faster with Smart Compose in Gmail
Click On Gear icon top right to enable the new Gmail.
Google has not made this new Gmail default for everyone yet, so if you're not seeing it, keep checking back. The rollout is supposed to be global for all 1.4 billion Gmail users.
Those new features, in short, include:
A fresh, clean look for Gmail on the web.
Easy access to G Suite apps, such as Google Calendar, from within Gmail.
Smart Reply on the web, just like on mobile.
Ability to "snooze" emails and choose when they reappear in your inbox.
Offline support (native offline support in the new Gmail experience by June 2018)
Several campaigns have taken to aggressive, last-minute tactics — like blasting their constituency districts with spammy text messages.
ZDNet has seen reports and tweets of screenshots of text messages from several New York-based candidates in the past few days, pushing local residents to vote for a particular candidate or calling for campaign donations.
That drew ire from one local resident, who said the unsolicited message could influence how they would vote Tuesday.
For years, state and federal election candidates have used text messages as a way to solicit votes or contributions from their constituents. Use of text messaging first rocketed during the 2008 presidential campaign and has only escalated in size and scale — no more so than during last year's election.
But the law is clear: it's illegal for companies to send text messages to individuals who haven't given prior consent.
Craig Engle, an attorney at Washington DC.-based law firm Arent Fox, said that the Telephone Consumer Protection Act protects consumers from receiving unsolicited political calls and texts to cell phones unless the sender has obtained prior consent.
But there's a catch: political emails and text messages are considered non-commercial and are exempt from the law.
After all, these campaigns aren't trying to sell you anything — they just want you to donate or vote for them.
But questions remain over how residents' phone numbers are obtained by campaigns.
A Brisport campaign spokesperson told ZDNet that the phone numbers used to send two separate text messages by the campaign were obtained from New York's Board of Elections.
One former senior staffer for a presidential candidate's campaign (who did not want to be named for the story) told ZDNet that phone numbers are often traded — bought and sold — like a commodity.
Lists of long-codes of people's phone numbers, of people who've opted into text messages, can be purchased. Anyone could buy a list that's legally opted-in and send a message.
People almost never read the terms of service. "When you signed in to some social app or when you shared your phone number with your bank, any of those folks could've sold on your information," the person said. "But it doesn't mean that people remember."
And as frustrating as unsolicited text messages are, political campaigns tend to stay within the lines of the law — even if they have to be reminded of the rules from time to time.
"Campaigns are very risk averse in pushing those boundaries because they don't want to get caught or kicked off the ballot, so they won't do something too sketchy," the person said.
Engle said that the best action to take is to simply respond to unsolicited text messages with "STOP."
"That, in theory, should take you off the list," he said. "If that doesn't work, a complaint could be filed with the FTC."
Political campaigns are in no hurry to stop using text messages in their campaigns. President Obama's successful 2008 campaign set the gold standard for using text messages in his winning campaign, a departure from John McCain's use of robocalls.
Text message blasts could help voters remember a candidate's name in the voting booth, but is a pesky spammer really the best person for the job?