Posts tagged 'Games'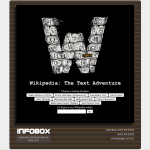 Created by Developer Kevan Davis
Wikipedia as a classic text adventure: A "game" Wikipedia: The Text Adventure generates a list of major landmarks, and clicking any of them takes you to a landing page with a basic location description as pulled from its Wikipedia article summary, along with a list of nearby locations marked off by cardinal directions. You're restricted to a text box, and, appropriately, typing "help" into it brings up a list of commands you can type. (Mobile users can also tap on keywords in the summaries, which isn't as cool, but it's a welcome alternative.)
They entered the tournament, their first event as a team, and no one thought that they would even get past the group stage. They ended up placing second in the entire tournament. In their next event, in Copenhagen, they came in first place. Now, that same group of six females, performing under the Team Dignitas banner, are taken very seriously. They operate in accordance with the tag CSGO WOMEN, and happen to be fully comprised of ladies, but they have zero interest in being compared to anything less than the esports industry as a whole.
The Cycligent Esports World Cup takes place at Kachette, 347 Old Street, on Tuesday June 6th. It will be shown in front of a live audience and broadcast on Twitch.
The London race is part of a series of events around the world that will culminate at the World Cup Finals in April 2018. 20 riders will race side-by-side in the Kachette tunnels.
Organisers said in a statement: "The Cycligent esports race will showcase top virtual cycling talent brought in from around the world. They will compete against one another on
Zwift's online course environment.
"Five cyclists representing the UK will race five cyclists from around the world, including the US, Ireland, Australia, the Netherlands, and Poland.
The eSports economy is expected to grow to $696 million, a year-on-year growth of 41.3% and the global eSports audience is expected to reach 385 million in 2017. Total prize money in 2016 reached $93.3 million, up from $61.0 million in 2015. According to Sports Illustrated, in 2016, eSports events sold out Key Arena in Seattle, Nationwide Arena in Columbus, the Staples Center in Los Angeles and Madison Square Garden in New York. The purse for the Seattle event, The International Dota 2 Championship, was $20,770,460, which Sports Illustrated points out is roughly double the total payout of The Masters. In 2017, major eSports competitions have been scheduled across North America, Europe, South Korea, and China, to name a few, making eSports truly international.
eSports is surging and whether or not esports professionals are appropriately considered "athletes" is hotly debated. One of the reasons this debate matters is because if they aren't athletes, they don't qualify for P-1 visas. And if they don't qualify for P-1 visas, it can be very difficult for these professionals to travel to the U.S. to participate in major competitive events.