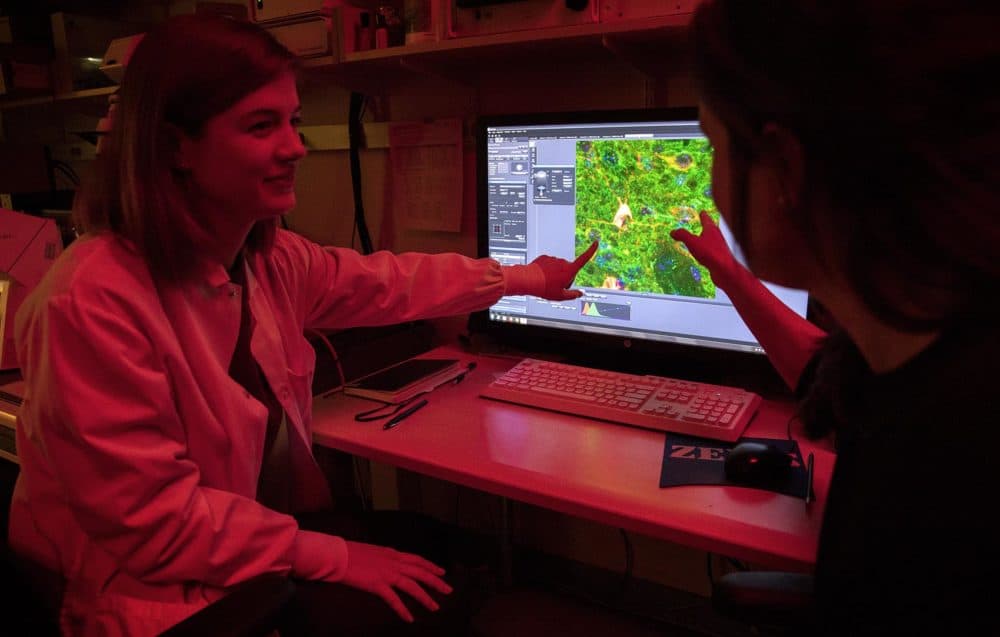 Amanda Vernon, left, reviews an image of cells in a mouse brain with MIT professor Myriam Heiman. The $9 million donation includes about $1 million for work in Heiman's lab. (Robin Lubbock/WBUR)
The Manhattan-based donor Bob Broderick made tens of millions of dollars by investing in the legal marijuana industry in Canada. So now he's funneling some of his money for solid research on how cannabis affects the brain.
Professor John Gabrieli director of the Martinos Imaging Center at MIT says heavy cannabis use is very widespread among people with schizophrenia, and it's not clear to what extent cannabis is helpful or harmful to them.
"That's why we need the science," he says. "Because right now, it's happening without the science, and it's likely to happen all the more as marijuana becomes highly available legally in many states."
Federal science authorities have called for major new research on the potential benefits and harms of cannabis use. The National Institutes of Health are supporting more than $140 million of research on cannabinoids.
But support from private donors has been real slow rolling in. Late last year, Inside Philanthropy, reported on a gift of nearly $5 million to support cannabis research at the University of California San Diego, under the headline "Where Most Donors Fear To Tread."