Archive for the 'Cloud Computing' Category
Next-Generation Batteries
The newest developments show that using sodium, zinc, and aluminum constructed batteries make the mini-grid a solid possibility for providing 24-7, reliable and clean energy to entire small rural towns.
2-D Materials
New materials such as Graphene are emerging and are going to change the world forever. Think about the Bronze Age…the Iron Age—these newest materials each contain a single layer of atoms and are two-dimensional. The potential positive impacts of evolving materials are limitless and bound only to the reach of scientists and how far they choose to push.
Autonomous Transportation
Self-driving cars are already in the here-and-now, but just how soon will  be helping to improve the lives of handicapped and elderly will change the quality of life for millions.
Personal AI
From your own personal robot assistant that can anticipate your every need and perform tasks at your whim, to entire AI environments—this could be affordable to everyone with the emerging availability of Open AI ecosystems.

1000 Black techies, thought leaders, and entrepreneurs in 1 room for 2 days on the water in San Francisco? AfroTech, the largest black tech conference in Silicon Valley!
With two full days of the latest technologies and hottest startups, you will have a chance to learn from some of the best, and connect with fellow innovators.
The FBI say, many toys sporting cloud-backed features such as speech recognition or online content hosting "could put the privacy and safety of children at risk due to the large amount of personal information that may be unwittingly disclosed.
"Security safeguards for these toys can be overlooked in the rush to market them and to make them easy to use," the FBI warns. "Consumers should perform online research of these products for any known issues that have been identified by security researchers or in consumer reports."
This comes after a number of kids' toys were found to be indirectly spying on kids by collecting and storing data, including audio conversations and personal information, without parents' knowledge.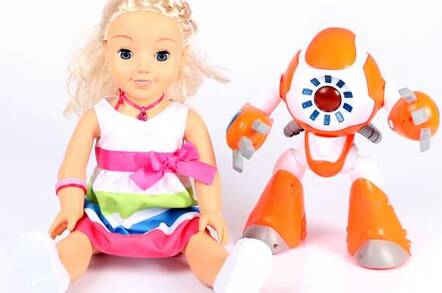 Germany's Federal Network Agency, or Bundesnetzagentur, has banned Genesis Toys' Cayla doll as an illegal surveillance device.
A new hacking event called DEF CON aims to drive improvement in so-called Internet of Things (IoT) devices, generally defined as traditionally analog devices that are now connected to the internet, by hacking them to discover security vulnerabilities. One of their goals is to solve the massive privacy and security issues that are introduced by connected devices. IoT Village runs August 6-9, 2015 at DEF CON 23, co-located between Paris and Bally's casinos in Las Vegas. The village will be comprised of hacking contests, including capture the flag, zero-day discovery and sudden death. Organizers will also host multiple talk tracks, as well as workshops and other tutorials.The village organizers are a group of security researchers and consultants who also ran the first-ever router hacking contest at DEF CON, which delivered 15 new, previously unknown, critical vulnerabilities to the research community. The researchers plan to expand the scope to include not just routers, but all connected devices, ranging from thermostats to TVs, printers to video surveillance equipment, implanted medical devices to drug refrigeration equipment, and everything in between.
ISE was founded in 2005 out of the PhD program at the Johns Hopkins' Information Security Institute, is a security consulting firm comprised of hackers, computer scientists, reverse engineers, and cryptographers who help companies defend against sophisticated adversaries by utilizing a perspective typically perpetrated by the adversary. ISE is widely recognized for being the first company to hack the iPhone, and more recently for the discovery of the vulnerability epidemic in wireless routers.
DEF CON started in 1993 and is one of the largest and oldest annual hacker conferences. The conference has a wide range of activities, including speeches, capture the flag, contests, lock picking, and official music events. Unique to DEF CON, are their research topics ranging from cryptography to lockpicking. There are currently only seven Villages, including the newest venue, IoT Village.
The 2015 International CES, one of the world's biggest electronics fairs will be held in Las Vegas January 6-9. The 'Internet of Things' is the hottest topic in tech right now. On view will be the newest and biggest television displays featuring "ultra high definition" that is catching on with consumers.So-called 4K television sets are coming down in price and becoming mainstream, and some reports suggest the show may feature newer, even more realistic "8K" displays.