When the Thanatos Ransomware infects a computer it will use a new key for each encrypted file. The problem, according to researcher Francesco Muroni, is that these keys are never saved anywhere. This means that if a user pays the ransom, the ransomware developer does not have a method that will actually be able to decrypt each file. Therefore, it is not recommended that victims pay the Thanatos ransom for any reason.
While the encryption part of Thanatos is a mess, the ransomware  is the first to accept Bitcoin Cash as a ransom payment.
While Thanatos accepts both Bitcoin and Etherum as a ransom payment, this is the first time that Bitcoin Cash has been accepted as shown in the ransom note below.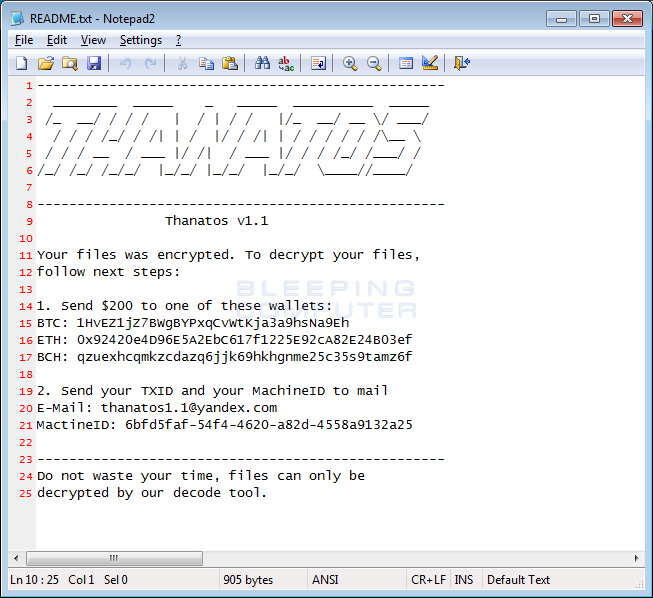 Thanatos Ransom Note
How Thanatos Encrypts a File
When encrypting files it will append the .THANATOS extension to an encrypted file's name. For example, a file named test.jpg would be encrypted and renamed as test.jpg.THANATOS.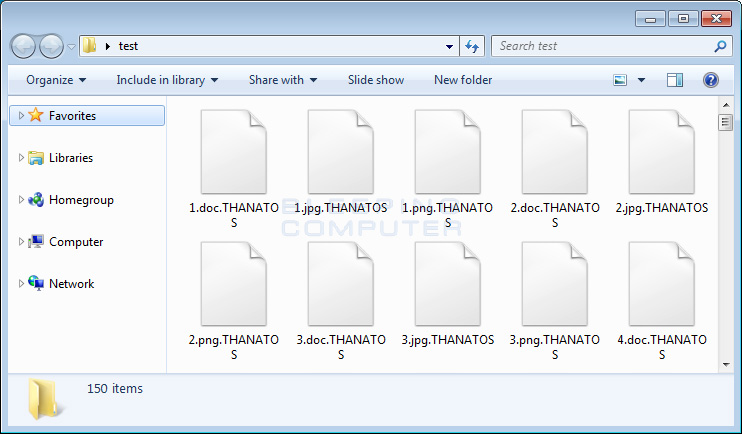 After the encryption process is completed, it will then connect to iplogger.com/1t3i37 URL in order to keep track of the amount of victims that have been infected.
Finally, it will generate an autorun key called "Microsoft Update System Web-Helper" that opens the README.txt ransom note every time a user logs in. This ransom note can be seen in the article's previous section.
This ransom note contains instructions to send a $200 USD ransom payment to one of the listed Bitcoin, Ethereum, or Bitcoin Cash addresses. The user is then instructed to contact thanatos1.1@yandex.com with their unique victim ID in order to receive a decryption program.
 If anyone is infected with this ransomware, they should contact us about the possible creation of a brute force program.
How to protect you

rself from the Thanatos Ransomware

 First and foremost, you should always have a reliable and tested backup of your data that can be restored in the case of an emergency, such as a ransomware attack.

You should also have security software that incorporates behavioral detections to combat ransomware and not just signature detections or heuristics.  For example, Emsisoft Anti-Malware and Malwarebytes Anti-Malware both contain behavioral detection that can prevent many, if not most, ransomware infections from encrypting a computer.

Last, but not least, make sure you practice the following security habits, which in many cases are the most important steps of all:
Backup, Backup, Backup!

Do not open attachments if you do not know who sent them.

Do not open attachments until you confirm that the person actually sent you them,

Scan attachments with tools like VirusTotal.

Make sure all Windows updates are installed as soon as they come out! Also make sure you update all programs, especially Java, Flash, and Adobe Reader. Older programs contain security vulnerabilities that are commonly exploited by malware distributors. Therefore it is important to keep them updated.

Make sure you use have some sort of security software installed that uses behavioral detections or white list technology. White listing can be a pain to train, but if your willing to stock with it, could have the biggest payoffs.