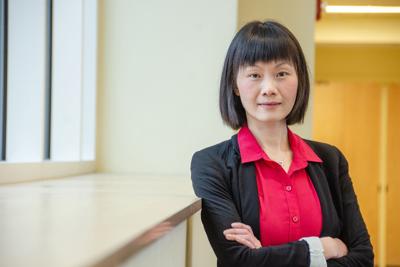 Courtesy of WVU Today WVU's Fanny Ye has been awarded a grant that will support her research to develop AI techniques to combat the opioid epidemic.
Yanfang (Fanny) Ye, assistant professor of computer science and electrical engineering at West Virginia University, has been awarded a grant from the National Institute of Justice in support of her work to develop novel artificial intelligence techniques to combat the opioid epidemic and trafficking. The award comes with about $1 million in funding over a three-year period.
As part of the grant, Ye, in collaboration with Xin Li, professor of computer science and electrical engineering, will design and develop new AI technologies to automate the analysis of large-scale surface net and darknet data to provide timely investigative leads to law enforcement agencies in the United States to combat opioid trafficking.
Dr. Ye and Dr. Li will use sophisticated pattern recognition research that can have a significant impact on disrupting the supply chain underlying opioid trafficking."
Ye has extensive research and development experience in Internet security solutions. Before joining WVU, she was the principal scientist in Comodo Security Solutions, Inc., a provider of computer software and SSL digital certificates, and deputy director at Kingsoft Internet Security Corporation, the second biggest Internet security company in China. Ye proposed and developed cloud-based solutions for mining big data in the area of Internet security, especially for malware detection and adversarial machine learning. Her developed algorithms and systems have been incorporated into popular commercial products, including Comodo Internet Security and Kingsoft Antivirus that protect millions of users worldwide.
She also recently received the prestigious AICS 2019 Challenge Problem Winner, the ACM SIGKDD 2017 Best Paper and Best Student Paper awards (Applied Data Science Track), the IEEE EISIC 2017 Best Paper Award and the 2017 New Researcher of the Year Award from the Statler College. Ye has brought in nearly $2.5 million in research funding to WVU in the past two years.