Archive for the 'Automobile' Category
With "Amazon Key In-Car," Prime members with "compatible vehicles" can opt to have packages delivered inside their cars when parked in a publicly accessible area. Amazon expects those locations to typically be at a customer's home or workplace, according to a company press release. Compatible vehicles include 2015 or newer Chevrolets, Buicks, GMC, Cadillacs or Volvos with active roadside assistance accounts.
The service carries no charge for Prime members and is available starting now in 37 U.S. metropolitan areas, the same areas where Amazon Key is already available. More cities and more vehicle makes and models will be added over time, Amazon said.
The app also provides notifications with an initial four-hour delivery window, when the delivery is on its way and again when it's been delivered. Customers can track when their car was unlocked and relocked in the App's activity feed and rate their in-car delivery
More than three quarters (75.9%) of women said they're unwilling to use it, as did 60.9% of men — a 68.8% average for all, according to a study by InsuranceQuotes.
People are leery of giving Amazon a key to their homes. Almost 80% said they are afraid that Amazon Key couriers will steal something (80.4% of women and 78.4% of men); 76.9% of women and 69.9% of men worry about a breach of privacy; and 61.8% of women and 56.2% of men are concerned about "malicious exploitation" of the service.
A 49-year old pedestrian, who was struck while pushing her bike and later died from her injuries, was walking outside of the crosswalk, according to a Tempe police department statement.  The car was operating in self-driving mode, the police said, but a vehicle operator was behind the wheel at the time. The National Transportation Safety Board said on Twitter that it planned to open an investigation of the incident.
The Volvo XC90-based prototype was traveling at 38 mph in a 35 mph zone when it hit the pedestrian. The car made no attempt to brake or swerve. But while Uber's prototype most likely isn't to blame, the operator behind the wheel could ultimately face charges.
A report from the Governors Highway Safety Association released March 1 said Arizona had the highest rate of pedestrian fatalities in the nation, based on available data from 2017.
Autonomous vehicles from Uber have been operating in Arizona since February 2017 as part of a national series of tests of self-driving vehicles.
The complete Tempe Police Department statement:
The vehicle was traveling northbound just south of Curry Rd. when a female walking outside of the crosswalk crossed the road from west to east when she was struck by the Uber vehicle. She was transported to a local area hospital where she passed away from her injuries. Her next of kin has not been notified yet so her name is not being released at this time. Uber is assisting and this is still an active investigation.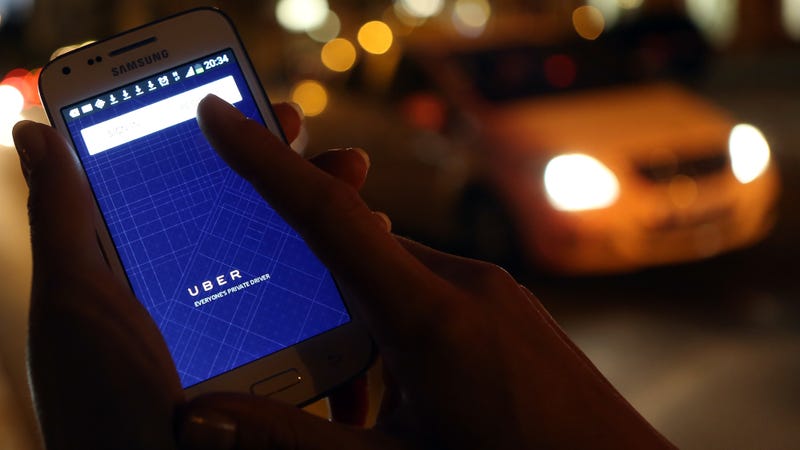 A research paper from MIT's Center for Energy and Environmental Policy Research compared a survey of over 1,100 drivers for Uber and Lyft with "detailed vehicle cost information" and found that 30 percent of the workforce is actually paying to work after vehicle expenses are taken into account. Overall, their findings reveal a bleak picture: The median profit for drivers came out to just $3.37 per hour before taxes.
 The researchers used data from Edmunds, Kelly Blue Book, and the Environmental Protection Agency to determine the cost of insurance, maintenance, gas, and depreciation for various vehicle models. Cross-referenced with drivers' self-reported revenue, mileage, and vehicle models, that information revealed discouraging results. Stephen Zoepf, a co-author of the paper, said "it's quite possible that drivers don't realize quite how much they are spending." He said that many drivers are effectively borrowing money against the value of their cars and subsidizing the ridesharing companies by working for low wages. When you combine that subsidy with the billions of dollars in venture capital that these companies are losing each year, Zoepf concludes that "this business model is not currently sustainable."
According to the working paper, 74 percent of drivers are earning less than the minimum wage in their states once these costs are included, with the average driver only pulling in $661 of profit per month. For those who are considering working for ride-hailing service, this data should make them cautious.
Those who already doing it should pay close attention to the paper's finding that the median profit is 29 cents per mile. The researchers say that drivers could possibly take advantage of the standard mileage deduction that tops out at 54 cents per mile and declare a loss on their taxes. So while ride share services are losing billions of dollars, billions more dollars of driver income may be mistakenly getting taxed. Meanwhile, other recent studies have found these companies are just making traffic worse.
Uber responded to the Guardian with the following statement:
While the paper is certainly attention grabbing, its methodology and findings are deeply flawed. We've reached out to the paper's authors to share our concerns and suggest ways we might work together to refine their approach.
It's worth noting that other studies have reported higher hourly income using different methodologies.
A spokesperson for Lyft responded and said: "Drivers are an integral part of Lyft's success. An ever-growing number of individuals around the country are using Lyft as a flexible way to earn income, and we will continue to engage with our driver community to help them succeed. We have not yet reviewed this study in detail, but an initial review shows some questionable assumptions."
Last year, Uber settled claims by the Federal Trade Commission that it misled drivers about the potential income they would make. Gizmodo obtained a letter sent by Uber's lawyers to the FTC where they argued that drivers were only earning less than the advertised rates because they chose not to drive enough.
Another job may be lost to technology. The new system for catching cars parking illegally is a specially equipped car that can automatically identify 500 to 1,000 illegally parked cars an hour, compared to 10 by an agent, according to RTS.
The cars are equipped with cameras connected to a database. The system checks to see if there is a valid parking record in the database matching each car's license plate.
Scan Cars have four cameras mounted on the roof and can operate at up to 80km/h, capturing license plates with bumpers as close as 20 centimetres apart, says the parking company.
Currently, only 35% of drivers are paying for parking in the city.
Some changes are required to make the system work for all types of parking situations. Resident parking permits will be registered in a central database. Machines will stop issuing paper tickets by the end of February.
Ticket agents will still be required. Scan Cars won't issue tickets, agents will still do that after being directed to the offending vehicle by the Scan Car.
It is hoped the extra data collected could be used to inform drivers where they can park. According to RTS, 30% of traffic in the city is drivers looking for parks. It is hoped this new technology might help people find empty parks faster. One thing is certain however, it won't increase the number of parks.
Geneva's parking company says there are no issues with privacy and data protection – they say the data is deleted. However, given that data is collected and hacks are possible, there can be no guarantee.
Both sides in the Waymo v. Uber lawsuit have reached a settlement, and the case is being dismissed with prejudice. Judge Alsup granted the motion to dismiss, and with that, the case is, in his words, "ancient history." 
 Waymo gets 0.34 percent of Uber's equity at the company's $72 billion valuation, which works out to a value of around $245 million. Waymo had originally sought a $1 billion settlement last year before the trial got underway, but Uber rejected that deal. Both sides are responsible for paying their own legal fees. "This is all equity; zero cash," said a source familiar with the settlement. Meaning, Waymo is invested in Uber's future.
According to a source, Uber cannot use any of Waymo's hardware or software trade secrets as one of the conditions of the settlement. That's interesting, especially since the trade secrets at the heart of the case were all related to hardware. Judge Alsup had instructed Waymo to bring a separate lawsuit against Uber if it wished to block the company from using its software.
Uber sees this as a big win, especially since it clears the deck for the company ahead of its expected public offering and avoids years of costly appeals and lastly, the settlement reflects the difference between Uber's old and new leadership.
Automaker Nissan will allow guests at a Japanese inn to try out self-parking slippers in March. 
A high-tech homage to Japanese tradition, the slippers wheel themselves to the inn's entrance upon the press of a button. The ryokan also featured similarly equipped tatami mats and tables. Nissan's initiative was designed to showcase the self-parking technology which it added to the LEAF electric vehicle in October 2017.