Posts tagged 'Higher Education'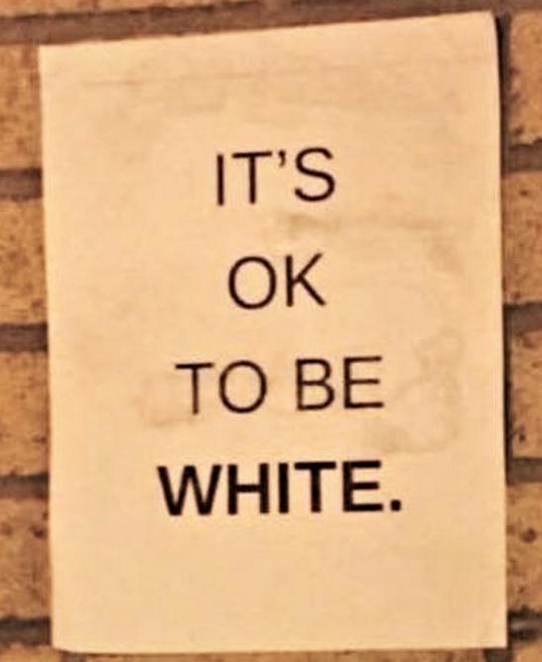 It's OK to Be White" messages has periodically appeared on campus posters over the past two years, typically placed unknown people or organizations who haven't taken credit for doing so, and who are believed to be from off-campus groups.
Pro-white propaganda of various types has been appearing on campuses in increasing frequency in the last two years. Last week has seen a surge in such postings.
The "OK to be white" message turned up in Vermont, at the University of Vermont and Champlain College.
Since then the posters have appeared at American River College, Duke University, North Carolina State University, Tufts University, the University of Delaware, the University of Denver and the University of St. Thomas, in Minnesota.
The trend is not only in the United States. One Canadian institution, the University of Manitoba, also had the posters turn up. In Australia, the use of the phrase by some politicians has set off a major political debate (and appearance of the posters), but in that case, the focus is not in higher education.
Also last week, white nationalist posters turned up at California State University at San Marcos.
The campuses seeing the posters do not seem to fit any pattern. They include public and private institutions, two-year and four-year, institutions where white people make up a minority of students and institutions where they are the overwhelming majority.
Colleges have generally removed the posters as soon as they are discovered. Colleges generally require those putting up posters to identify themselves and/or get permission to place them. That hasn't happened in these cases. So while college leaders have condemned the message behind the posters, they have not faced free speech challenges because those putting up the posters have violated college rules.
The surge in these posters on campus has come at a challenging time for many institutions, as students respond to a divisive midterm election and recent killings of black people in Kentucky and Jewish people in Pittsburgh.
For the last two years, the Anti-Defamation League has been documenting an increase in white supremacist activity (including posters) on college campuses. There were 292 cases of white supremacist propaganda reported on campuses during the 2017-18 academic year, compared to 165 in 2016-17.
Marist College in New York's Hudson Valley will partner with a regional health-care provider to build a new medical school.
.
The University of Ottawa is offering a Cannabis Law course.  Dubois, a partner at the Ottawa law office of Perley-Robertson, Hill & McDougall, and colleague Megan Wallace will be the lead instructors of the new cannabis law course at the University of Ottawa. The course, the first of its kind in Canada, will run for about three weeks. Students will learn about the licensing and regulatory frameworks of the cannabis industry as well as how legalizing the drug will affect everything from employment to property law. Diane Labelle, general counsel at Health Canada Legal Services, will teach a similar course at uOttawa in French this fall.
Commercial landlords now face heavy penalties for allowing pot to be sold at their properties, a situation that will have to change in time for private retailers to hit the market next April.
Dubois course will also feature a field trip to the Tweed production facility in Smiths Falls, where students will get a first-hand look at the product they're learning about.
Southern Ontario's Niagara College announced it was launching a one-year post-graduate commercial cannabis production program developed in conjunction with more than a dozen licensed producers, including Tweed parent Canopy Growth.
Ryerson University in Toronto, meanwhile, said this summer its Ted Rogers School of Management would be introducing a course ​– appropriately numbered 420 ​– called "the Business of Cannabis," focusing on topics such as retailing, marketing, quality control and financing. And Montreal's McGill University plans to enter the field by offering a diploma program in cannabis and cannabis production, starting next fall.
The cannabis industry has an urgent need for workers with highly specialized skills in areas such as genetics, horticulture, cultivation techniques, pest control and biotechnology.
 Skills are some what borrowed from pharmaceutical or food industries, but it is still quite different because the cannabis industry is complex. There are a lot of components to the cannabis industry.
A student at the University of Louisiana at Lafayette, signed up for an introductory accounting course, and noticed that the online textbook for the course was listed at $999.
She took to Facebook and posted a screenshot on the "UL Ragin Cajuns Book Swap" group.
"Can anyone explain why the WileyPlus online code for ACCT 202 is $1000?" she asked.
Fellow students took to Twitter to voice their outrage, and soon after students and observers were accusing UL-Lafayette of scamming students.The textbook, Financial and Managerial Accounting, 3rd Edition, was customized by publisher Wiley for the Accounting 201 and 202 courses at UL-Lafayette and is a new addition to the courses this academic year. The $999 pricing was not a glitch.
Though the university and publisher argue that the $999 price was just a "placeholder" that no one would actually pay, the incident has caused uncertainty and anger among students who are just trying to purchase the correct items at the best price. The textbook marketplace can already be incredibly confusing due to its plethora of vendors, subtly different textbook editions, disliked single-use access codes and disparate rental programs.
While the online-only version of the textbook was priced at $999 in the Wiley marketplace, a bundled print and online textbook was available for $253.25 from the college bookstore. Both options include an access code for the WileyPlus online teaching and learning platform.
The university knew that the online book is usually cheaper than the hard copy. UL knew that most students would buy the online copy and just print it out so that we wouldn't have to spend crazy money on a book from their bookstore. So they made the online version a ridiculous amount so that us students had no other option."
University College London Qatar (UCL Qatar) has announced the introduction of new courses within its postgraduate master's degree of Library and Information Studies.
For the first time in Qatar, specialized courses in archives, records and data management will be taught. These will support the transition of Qatar to a knowledge-based economy and the development of the country's growing need for library and information specialists.
The updates will help meet the growing need from across government and the private sectors to handle an ever-increasing amount of records, and to support the emerging research sector and e-government initiatives.
Trained data professionals in the sector will be able to manage and handle records from government agencies and private corporations, as well as the emerging research sector in the country.
The announcement comes just weeks after the official opening of the Qatar National Library that will now support Qatar's innovative and research-based libraries sector to become a
regional leader.
Applications for UCL Qatar's master's degree programmes in Library and Information Studies and Museum and Gallery Practice are currently open at UCL Qatar. The degree programmes are available as full-time one year courses or part-time two years courses.
Several well known textbook publishers are finding nee and alternative ways to save students money and stabilize revenues with inclusive access digital material models funded by fees included in student material fees.
Under the new model of bookselling, students receive digital access to required course materials and have the option to pay additional money for a printed copy, delivered on the first day of class. 
Officials at Indiana University told Inside Higher Ed that in the eight years since piloting its eText initiative, revenues exceeded $10 million last year and there was a more than 40% jump in annual growth.