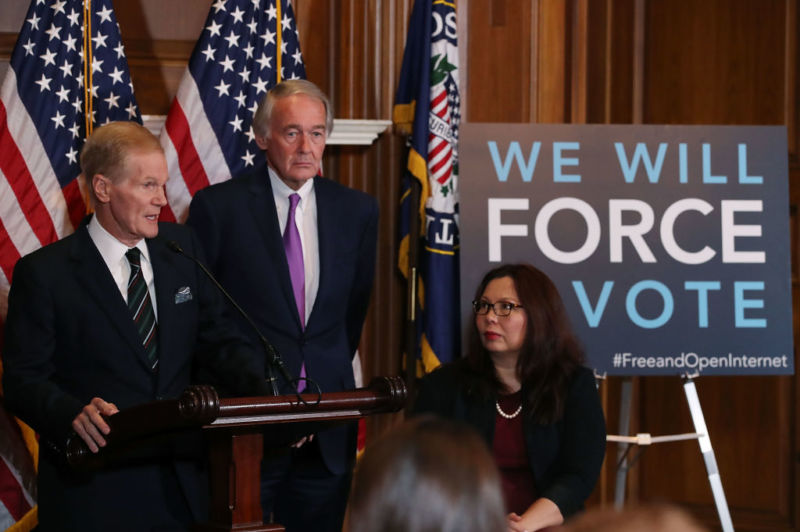 There may be enough Democratic  votes in Senate—but the House is a another story.
Today Senate Democrats filed a long-promised petition to prevent the repeal of net neutrality rules in a move that will force a vote of the full Senate by a deadline of June 12.
The Senate will have to vote on a Congressional Review Act (CRA) resolution of disapproval, which would nullify the Federal Communications Commission's December 2017 vote to repeal the nation's net neutrality rules. The CRA was filed in February, and Democrats today filed the discharge petition that will force the full Senate to vote on it.
This is the same mechanism that Congressional Republicans used to eliminate broadband privacy rules last year.
If successful, the Democrats' resolution would prevent the deregulation of the broadband industry and maintain rules that prohibit blocking, throttling, and paid prioritization.
"The CRA resolution would fully restore the rules that ensure Americans aren't subject to higher prices, slower Internet traffic, and even blocked websites because the big Internet service providers want to pump up their profits," Sen. Ed Markey (D-Mass.) said at a press conference today. "By passing this resolution, we can send a clear message that this Congress won't fall to the special interest agenda of President Trump and his broadband baron allies but will rather do right by the people who sent us here."
The Internet Association said it is weighing its legal options for "a lawsuit against today's Order" but would also accept a strong net neutrality law imposed by Congress.
Plenty of organizations might appeal, said consumer advocate Gigi Sohn, who was a top counselor to then-FCC Chairman Tom Wheeler when the commission imposed its rules.