Archive for the 'Food' Category
Google has reportedly held "informal talks" with interested parties for a deal that would encompass the Zagat brand name and website. Mum's the word on how much Google is after for the service, with Google keeping quite on the matter.
A charity in the United Kingdom is testing special vending machines that dispense essential items like water, food, and clothing to homeless people with nowhere to go at night. The free-to-use service is the work of Nottingham-based Action Hunger. Huzaifah Khaled is the founder of this organization.  Access to the machines is exclusively permitted to those in need. Items can only be vended with the use of a special key card issued by Action Hunger. The key cards are disseminated to their partner organizations in each city, which tend to have homeless shelters and local outreach centers.
The key cards can be used to get up to three items per day, and Action Hunger hopes it will enable people to get some help, without becoming too reliant on the vending machines. The non-perishable contents of the vending machine such as fresh fruit, energy bars, sandwiches, socks, gloves, sanitary towels, toothbrush and toothpaste combination packs, and foil blankets, come from donations, while most of the fresh food is being supplied by redistribution organizations. In order to keep the key cards active, individuals must check in with their regular homeless shelter on a weekly basis.
The free vending machines will be in the United States February 2018. New York will receive the first machine, and Los Angeles, San Francisco, and Seattle will follow. Action Hunger has a special interest in a host of cities across America and would like to reach as many people as possible including more areas in Europe.
Outlets are reporting that Chinese scientists have genetically altered pig embryos (using added genes from mice) to create "skinny pigs" who have a lower percentage of body fat and could be used, one day, to produce what some headlines are deeming "healthy bacon.
Genetically modified (GM) foods continue to be a contentious subject. Proponents believe that it could help feed millions of hungry people amid climate change and population growth. Others balk at the idea of eating science experiments.
The World Health Organization reports that the safety of GM foods depends on how the genes were tweaked, which will ultimately leave each item to be rated on a case-by-case basis. In the United States, the Food and Drug Administration has approved genetically engineered salmon. And apples not prone to browning are expected to be available soon.
UH!
Whole Foods said it was alerted to a potential breach after it "receiving information about an unauthorized access of payment card information. It appears  that Whole Foods did not detect the compromise itself, but was informed by a third party instead.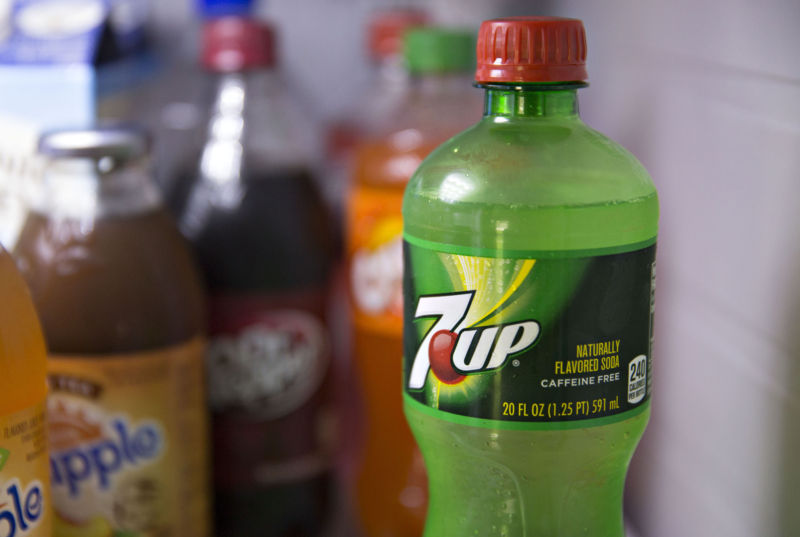 7Up—now has a troubling eighth ingredient in Mexico: methamphetamine.
Health professionals in Arizona are warning travelers to the Mexicali area to be aware of possibly contaminated sodas there. The warning comes days after medical toxicologists and emergency doctors received reports of soda tampering in the area.
According to the Attorney General of the State of Baja California, seven people were sickened and one died from the spiked soft drinks. Officials requested that merchants there suspend sales of 7Up and clear the product from their shelves. There is currently an investigation in progress to figure out how the illicit stimulant got into the soda.
Chris Barnes, a spokesperson for Dr Pepper Snapple Group, told Arizona news outlet AZCentralthat 7Up products in the US were safe. "None of the 7Up products sold in the US are affected by the issue being reported in Mexico," Barnes said. "Dr Pepper Snapple owns and licenses the 7Up brand only in the US and its territories. We do not market, sell, or distribute the brand internationally."
Health professionals recommended travelers stay watchful of the beverages they buy. "It is important to check that the seal for any food and drink consumed is still intact and show no signs of tampering," Dr. Daniel Brooks, a poison and drug expert with Banner Health, said in a statement. "If you notice any difference in color, taste, or smell, throw it out."
Symptoms of consuming meth-laced soda include: burning to the esophagus or abdomen, nausea, vomiting, difficulty breathing, and fast or irregular heartbeat.
 7Up contained a potent drug when the soda was first released in the 1920s. It contained lithium citrate, a mood-stabilizing psychiatric drug that's used to treat manic states in people with bipolar disorder. Some have theorized that the soda got its name from the atomic mass of lithium, which is roughly seven.
Startup Memphis Meats announced in April that it had for the first time grown chicken meat in a lab, the firm admitted that the achievement came at a cost of $9,000 per pound. Memphis Meats puts living animal cells into bioreactor tanks and feeds them oxygen, sugars, and minerals until they divide and grow. The company said the taste and texture is similar to that of the real thing, just a bit spongier, according to the Wall Street Journal. Although the company has served it's cultured poultry to taste testers, the meat is still extremely expensive. It currently costs around $9,000 to produce a pound of Memphis Meats' poultry, compared to a bit over $3 on average for a pound of chicken breast. However, the company hopes to reduce costs drastically as it refines its technology over the next few years. It hopes to launch a commercial product in 2021.
Business leaders like Bill Gates, Richard Branson, and Kimbal Musk have joined food industry giants like Cargill and venture capital firms in backing the startup with $17 million in a Series A round of funding. In total Memphis Meats has raised $22 million.