Archive for the 'Cuisine' Category
 transparency
Fresh, natural and simple are the culinary words of the day. As consumers are taking a greater interest in ingredient lists of packaged food – the shorter the better, the more pronounceable the better – chefs and restaurateurs also look for minimally processed ingredients for their menus.
 grains
Quinoa is ubiquitous these days, but it's starting to cool off as a hot trend. Its cousins in the ancient grain family are picking up that heat, though. Amaranth, spelt, farro and sorghum may be coming soon to a grain bowl near you.
Vegetarian and vegan cuisines
After a few years on the rise among hot menu trends fueled by an increased focus on health and nutrition, vegan and vegetarian cuisines are becoming less trendy. They are not going anywhere, though, as they are gaining momentum as permanent features on restaurant menus. Simultaneously, veggie-centric cuisine continues to heat up, indicating that plant-focused diets are increasingly embraced by both chefs and consumers.
Underused meats are on the outs
Meat cuts like chicken feet, pig ears, tongue and oxtail had their moment in the sun as far as being trendy, but the skies are now partly cloudy. And speaking of underused proteins, insects continue to hold the number-one spot on the yesterday's news list in the What's Hot in 2017 report.
Sixty percent of supermarket goods will display a red sticker.The plan was initiated by the Health Ministry after Israel ranked first in percentage of obese citizens in a European list of countries. Israeli children ranked third in terms of incidence of obesity.Supporting the new bill are Health Minister Yaakov Litzman (UTJ) and chairman of the Committee for Good Nutrition Moshe Bar-Siman Tov. Bar-Siman Tov told manufacturers they would be required to mark unhealthy products with red stickers. Manufacturers were furious at the fact that "unhealthy products" had a strict definition which would force more than 60% of their products to display the sticker.The affected products would be those high in saturated fat, sodium, and sugar.Artificial food coloring, preservatives, unpronounceable ingredients, monosodium glutamate, added hormones, and other unhealthy ingredients would not require manufacturers to label the affected products.
The Health Ministry – and the Israeli populace – are hoping the threat of red stickers will cause a fast change  in the foods offered at Israeli supermarkets.
Here's what they're working on
3D-printed food could look the same as regular food, but have nutrients tailored to the diner(Credit: US Army)
A robotic kitchen chef(Credit: Moley Robotics
Jellyfish could be a major source of future food(Credit: David Szondy/New Atlas)
Golden rice compared with regular rice(Credit: International Rice Research Institute (IRRI))
Vertical farms would bring agriculture to the cities(Credit: FoodPort)
Algae is 50 percent protein – could it be a source of food in the future?
A barge containing an urban farm(Credit: Swale New York)
Beyond Meat is a plant-based chicken substitute(Credit: Beyond Meat)
The Impossible Burger is plant-based beef substitute that uses a vegetarian meat chemical analog to enhance the flavor(Credit: Impossible  Burger)
ShakeShack managers and sommeliers at the new Union Square Cafe 2.0 eatery will wear devices to take better care of their diners. When the announcement came that all  that all  managers and sommeliers at his Union Square Cafe 2.0 would be sporting Apple Watches when it reopened this month, patrons paniced that the glow of organic bonhomie would be replaced by a bunch of smartphones. To ease the tensions, only  sommelier and managers will receive an Apple Watch which will not be seen. Servers will not wear the watch.These watches will be connected to an app developed by Resy, a tech-forward reservation system startup, and integrated into the restaurant's point of sale system.This technology, is expected to allow the restaurant to take better care of its guests. Managers will be able to monitor with statistical precision how long a table has been seated and thus when their order should be taken.Likewise, guest using the Resy app will have a profile wherein preferences, allergies and past orders can be noted. The restaurant can also create profiles for every member of a party, not just the reserver.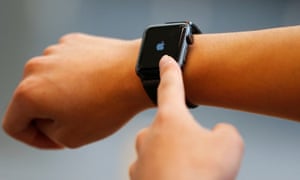 Servers will not be wearing the watches and somms and managers wear long sleeves.' Photograph: Issei Kato/Reuters
Ce La Vi, on the rooftop of the Marina Bay Sands hotel in Singapore, is teaming up with Russian diamond company World of Diamonds, offering an experience lasting eight hours. The two-person package includes a 45-minute helicopter ride over Singapore, a luxury cruise, and a chauffeur-driven Rolls-Royce ride to Ce La Vi. The diners will be presented with 10,000 roses and an 18-course meal. The dinner finalises with the couple being presented with a 2.08 carat blue diamond ring with a rose-gold plated platinum band, that World of Diamonds has named after actress Jane Seymour.