Archive for the 'Authors' Category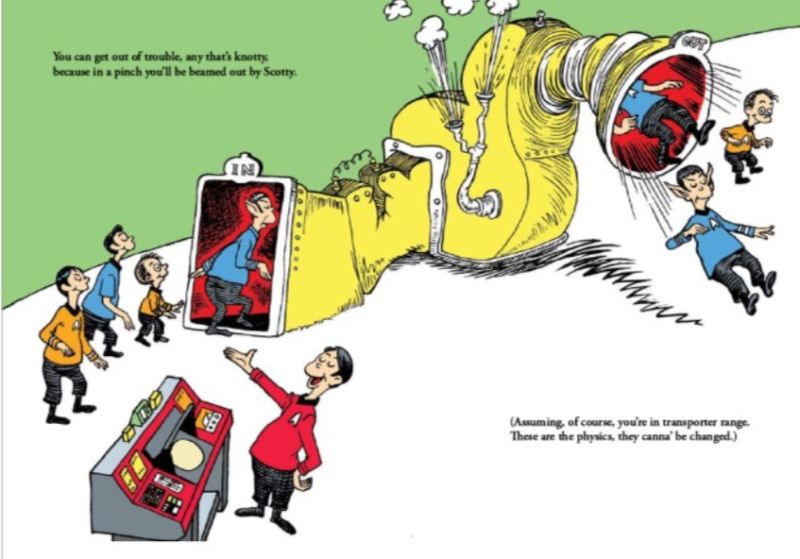 A judge has allowed a lawsuit to move forward against the creators of
Oh, the Places You'll Boldly Go!
—a nearly page-for-page remix of the Dr. Seuss classic
Oh, the Places You'll Go! and Star Trek.
This decision reverses an earlier ruling.After receiving a new court filing, US District Judge Janis Sammartino found that ComicMix, the company behind the new work, could not so easily have the case dismissed.
The new book originally raised tens of thousands of dollars on Kick starter before being taken down in October 2016. A lawsuit ensued soon after. Dr. Seuss Enterprises v. Comic Mix LLC, which was filed in federal court in San Diego in November 2016. Dr. Seuss Enterprises (DSE) represents the works of the now-deceased but still iconic children's book author, Theodor Geisel.
DSE argued that ComicMix's new mashup infringed on its intellectual property rights, while ComicMix argued that it was allowed under the fair use doctrine of American copyright law. That notion allows for certain remixes to be created and sold under certain conditions without violating the original copyright.

Counterfeit Clues: A high-demand textbook sold for way below Amazon's price on a non-Amazon site like eBay.
If you're sourcing online, this is a big one to look for. Counterfeiters love bootlegging the most popular textbooks, then unloading them for cheap(ish) prices on off-Amazon sites like Alibris, eBay, and more.
I would advise you to scrutinize any listing closely, but fact is no seller is going to admit their book is counterfeit. So if it seems too good to be true, it doesn't necessarily mean it is (good mistakes do happen). But you're taking your chances.
Thin, low-quality paper.
Big red flag: Paper that is so thin you can see text on one side of the page through the other side of the page.
Poor quality distorted cover art.
Art that looks slightly distorted or "off."
Major textbook publishers will never publish a book with fuzzy or weird cover art. They have whole art departments who make sure this doesn't happen.
Counterfeit Clue #5: Fuzzy barcode.
The first place to look when determining if a textbook is counterfeit is the barcode. If the barcode is distorted or fuzzy – it's a fake. 100% of the time.
Note: Countefeiters only bootleg expensive, high-demand textbooks.
If you're not holding a textbook ranked in the top 10,000, it's probably not counterfeit.
That's not to say that old counterfeit textbooks won't stay in circulation, but the bulk of the business in counterfeits is the latest hot new high demand textbooks. They print a bunch of them, sell them quickly, and move on. Those are the books most likely to end up in your Amazon inventory (and be flagged by Amazon).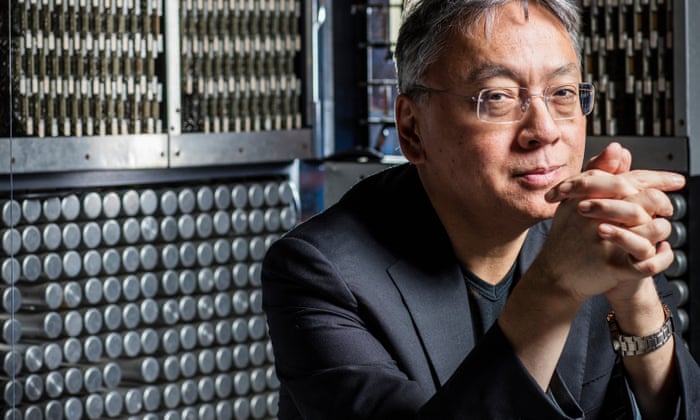 Kazuo Ishiguro, winner of the Nobel prize in literature 2017 Photograph: David Levene for the Guardian
Kazuo Ishiguro's new book features an American woman who claims to be a virtuoso on the cello. She befriends and tutors a young Hungarian cellist earning his living playing in cafes. she tells him "you have it, most definitely you have … potential." As the days turn into weeks, he wonders why she does not appear to own a cello herself, and eventually, as summer draws to a close, he discovers why. She cannot actually play the instrument at all. So convinced was she of her own musical genius, no teacher ever seemed equal to it, and so rather than tarnish her gift with imperfection, she chose never to realize it at all. "At least I haven't damaged what I was born with," she says.
Ishiguro's fiction is acclaimed for the spare elegance of the writing, a testament to the power of what is left unsaid.
Kazuo was born in Japan, but moved with his parents and two sisters to Surrey when he was five, and has lived here ever since. His parents found British culture quite bewildering, and Ishiguro was inevitably cast in the role of anthropological go-between, but this left him with a fascination with the minutiae of class rather than any wound of dislocation
This Picture of Einstein sold for 125,000.00 @ auction
Michelle Young and co-founder Augustin Pasquet wrote  and provided photographs for their book  Secret Brooklyn: An Unusual Guide
Some of the unusual places featured in their book consist of the Roosevelt House at Brooklyn College, The Puppet Library features over 100 puppets, some as large as 20 feet tall, that sit on the bleachers of a gymnasium.
Abandoned Shooting Range in the Park Slope Armory
The militia of the 14th Regiment once used an extensive, multi-level shooting gallery below the Park Slope Armory.
Abandoned shooting range
Puppet Library located below Park Slope Armory
Park slop Armory once home to the 14th Regiment of the U.S. militia
   Wild Parrots of Brooklyn
The best way to see the parrots is through a monthly free tour run by Steven Baldwin, who estimates there are 150 Quaker Parrots in Brooklyn today.  The parrots are more famous for roosting in Green-Wood Cemetery, the location where you can see the parrots most up-close is on a leafy residential street in Flatbush.
The fake Town House in Brooklyn Heights  building number 58 is not what it seems; it is a fake brownstone, behind which lies a hidden subway ventilator. It also functions as a emergency exit.The fake brownstone on Joralemon Street is also rumored to serve as a secret passageway to the 4/5 trains running in the tunnel below. A writer for the Brooklyn Heights Blog swears that he saw a glimpse of the 4/5 station when he peered inside the metal door marked "Exit 1
Substation #21, active since 1908. The substation was built to power the IRT subway extention from Atlantic Avenue to both Flatbush Avenue and New Lots Avenue.  It's a real gem because it simultaneously houses both vintage equipment and modern functioning equipment.