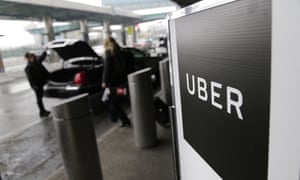 A pickup point for Uber at LaGuardia airport in New York. Uber has faced criticism before over its treatment of drivers. Photograph: Seth Wenig/AP
Uber to pay New York City drivers tens of millions of dollars after admitting to underpaying them for two-and-a-half years by taking a larger cut of drivers' fares than it was entitled.
Under the terms of service the ride-hailing company put in place in November 2014, Uber was supposed to take its percentage of the commission – ranging between 20% and 25% – after deducting sales tax and a local fee to fund benefits for injured drivers. Instead, the company calculated its commission on the gross fare, resulting in more money for Uber and less for drivers.The average payout-per-driver will be about $900. With tens of thousands of drivers eligible for a refund, the company will be on the hook for tens of millions of dollars. An Uber spokesperson said that the company discovered the mistake in recent weeks, as it was preparing to roll out a new pricing scheme.
However, questions about Uber's calculation of New York City commissions were raised nearly a year ago in a class-action lawsuit filed by the New York Taxi Workers Alliance (NYTWA). The suit, which was filed in federal court in New York in June 2016, alleged that Uber's deduction of sales tax and the injured driver fee after the commission was calculated violated the terms of service and amounted to wage "theft".
Uber also has admitted to underpaying US drivers. In March, the company paid refunds to UberBlack drivers in Philadelphia after charging them an extra 5% in commission for about 18 months. In January, Uber agreed to pay $20m to settle allegations by the Federal Trade Commission that it had tricked drivers with false promises of higher earnings.
.