There are  less than half of the demographic affluent millennials completing post-graduate degrees compared to wealthy baby boomers.While millionaires are much more likely to have higher level education degrees compared to the average American, millionaire boomers and gen-xers are much more likely to obtain higher degrees than affluent millennials. The younger generation sees greater opportunity to create their own businesses and working full-time, with about 90 percent of millennial millionaires working full-time in their own business.
Young millionaires millennials are clearly different, many of them are taking another route to becoming wealthy and working in their own businesses.
Males still make up the largest percentage of millionaire individuals, with 67 percent of all millionaires being men and only 33 percent women. When looking at millennials the percentage only shifts slightly, with 66 percent men and 34 percent women.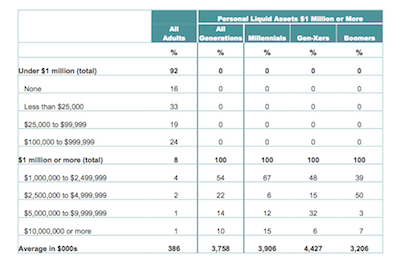 Shullman Research